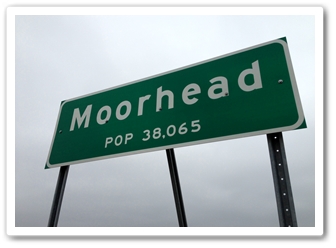 The City of Moorhead has spent several years improving its flood defenses. However, Moorhead and Clay County would still benefit from the protection provided by the Diversion Project. Flooding of a severe magnitude could still overtake parts of Moorhead and put great strain on city infrastructure. Yes, when you look at elevation levels, Moorhead is on higher ground and may not need as much protection from severe flooding as Fargo; but many Minnesotans do need Fargo to survive the kind of natural disaster that is unthinkable, but possible.
"It is true that Moorhead is already protected from a lot of the damage a flood would cause," said Kevin Campbell, Clay County, MN Commissioner. "But what happens if all of our people who live in Clay County, who are employed in North Dakota on the Fargo side, don't have a place to go to work anymore. We have to get a conversation going on this, because it's about far more than just how much water is going to be up on somebody's lawn or home."
Studies have shown 58% of Moorhead's workforce and 56% of Dilworth, MN's workforce is employed in North Dakota… in Cass County, specifically. 55% of Clay County's workforce is employed in Cass County.
"I talked with someone recently who lives north of Glyndon, MN, and works in Fargo," said Brad Wimmer, Fargo City Commissioner. "He told me he doesn't believe building a Diversion Project would help him at all because he's high and dry. However, I believe he's missing the point. What happens to his job in Fargo if a flood were to overtake Fargo some day?"
Many will recall that the 2009 flood in Fargo forced businesses to close their doors for days or weeks and forced regional hospitals to evacuate their patients. Even those businesses not immediately affected by the flood received calls from customers and clients worldwide assuming the flood would affect services.
A study by the Greater Fargo Moorhead Economic Development Corporation indicated that more than 100,000 jobs within the Fargo-Moorhead area could be affected if a flood decimated this economic hub. The effects of a devastating flood would ripple through the entire upper Midwest – businesses would be negatively affected, causing a spike in unemployment; homes would be destroyed, leaving thousands homeless; the sick would need to travel hours away to get to a hospital in Minneapolis, Sioux Falls, or other areas; and damaged bridges would impede travel.
"Now, I have really good protection where I live in Oakport Township," Campbell said. "Do I worry about a flood for me? No. But my kids work in Fargo. They all have mortgages. They have to see doctors. They need their health care. They need Sanford. They need Essentia."