Diversion Authority Comments on Invitation to Apply for a Federal Low-Interest WIFIA Loan from U.S. EPA
October 7, 2019
The Diversion Authority today received confirmation the United States Environmental Protection Agency (EPA) has invited the Diversion Authority to apply for a low-interest Water Infrastructure Finance and Innovation (WIFIA) loan. The invitation is the next step in the process to secure this important financing tool and was in response to the Letter of Interest filed by the Diversion Authority on July 5, 2019.  Invitations to apply are limited through a highly competitive process and are viewed as the milestone event, which will result in the Diversion Authority closing a WIFIA loan with the US EPA.
The invitation to apply for the $510 Million loan, operated through the U.S. Environmental Protection Agency (EPA) was secured with the support of North Dakota's Gov. Doug Burgum, Sen. John Hoeven, Sen. Kevin Cramer and Rep. Kelly Armstrong.
"We are grateful for the leadership of our Congressional delegation in this area. This loan would not have been possible without their vision and efforts in Washington," Board Chair and Cass County Commissioner Mary Scherling said. "Having a low-interest loan helps solidify our financial plan. This is a critical financial step as we continue construction and bring a P3 developer on board."
"Once again we can see how committed the federal government is to building the FM Area Diversion Project," Board Vice Chair and Clay County Commissioner Kevin Campbell said. "With a wet fall in our midst, it's more important than ever to keep moving forward with financing and building flood protection for our communities."
The WIFIA program was enacted in 2014 and allows local, state, tribal entities and some non-profit entities to apply for projects with regional and national significance. Eligible projects range from drinking water to wastewater projects, storm water and snow melt mitigation, drought prevention or a combination of infrastructure projects.
The loans have a single fixed interest rate that is established at closing. The payment schedules can be customized with repayment starting up to five years after project completion  and can be repaid up to 35 years after project completion.
"Having a fixed interest rate gives us the opportunity to further  solidify the financial plan with real numbers today. The WIFIA loan has great terms, and provides better certainty to our Diversion financial planning through the known interest rate and payback terms," Scherling said. "This fits with the updated financial plan and we will keep moving forward."
For more information about U.S. EPA's WIFIA Program, visit www.epa.gov/wifia. For more information about the FM Area Diversion Project visit www.FMDiversion.gov.
Additional WIFIA information
U.S. EPA WIFIA Program Informational Sheet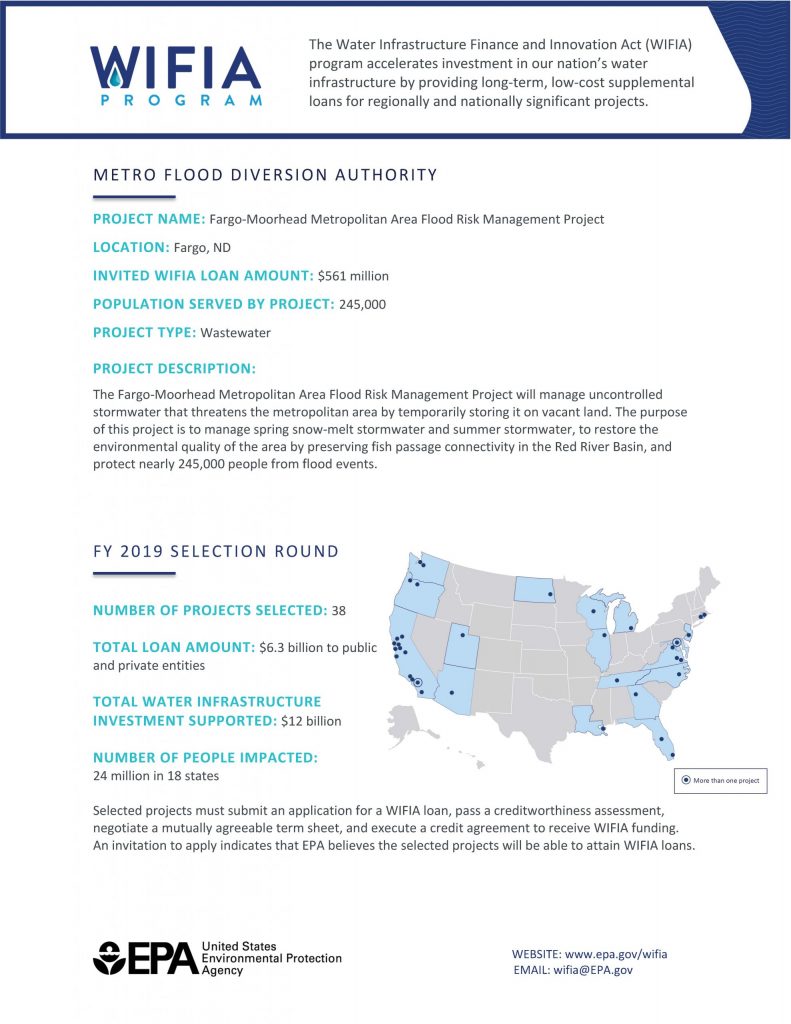 WIFIA loans have a single fixed interest rate at or close to US treasury rates established on the closing date of the loan.
Repayment of a WIFIA loan can begin up to five years after substantial completion of the project.
Payment schedules may be customized and the loan can be repaid up to 35 years after the project is substantially complete.
The Program was created in 2014 and eligible projects range from drinking water to wastewater projects, storm water and snow melt mitigation, drought prevention or a combination of infrastructure projects