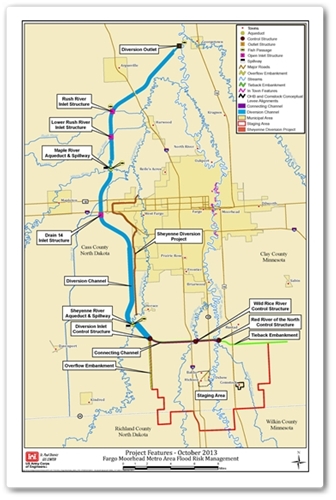 Engineers have released an updated map of the Fargo-Moorhead Area Diversion Project's alignment and features. The release follows Corps of Engineers approval in September of documents which detail improvements and modifications to the Project.
The changes, which are now final, result in significant cost savings, reduce the number of impacted residential structures, reduce impacts to Richland and Wilkin counties, and increase efficiency and operation of the diversion channel.
Changes were made to the western alignment, south of the Maple River to the Sheyenne River, and the southern alignment. The western alignment change resulted in moving the diversion channel west of the Interstate 94/Raymond interchange and the existing Sheyenne Diversion Project, leaving the Horace to West Fargo diversion channel separate from the proposed diversion channel.
Changes to the southern portion of the project included adding gates on the diversion inlet structure, moving the diversion approximately one mile north, and eliminating a storage area.
In addition, levees along portions of the Red River are now integral components of the proposed Project.
The previous version of this map represented both the previous alignment and the potential (now final) alignment. Now that the Corps' Environmental Assessment has been completed, the potential change to the alignment, as previously shown, is final.