(Updated from the original May 15, 2013 article)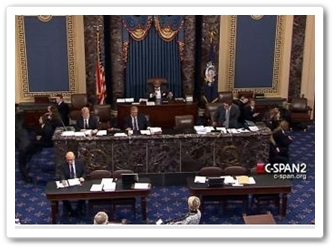 A measure that would provide federal authorization for the Fargo-Moorhead (FM) Area Diversion Project passed the U.S. Senate on May 15, 2013.
The Water Resources Development Act (WRDA) of 2013 (S. 601) authorizes important Army Corps of Engineers projects that will create jobs, spur economic growth, and enhance the nation's economic competitiveness. The $1.8 billion Diversion Project would provide permanent flood protection for approximately 200,000 residents of North Dakota and Minnesota.
Next, the WRDA bill will go before the U.S. House.
"Securing federal authorization is a key step to building the flood protection our area needs," said Darrell Vanyo, Cass County Commissioner and Chair of the FM Diversion Authority. "The Diversion Authority thanks members of the U.S. Senate for their support, and we ask members of the U.S. House to take up the issue soon and pass this important legislation."
In a press release, U.S. Senator Heidi Heitkamp commended Senate passage of WRDA. "I was pleased to vote in favor to passage of the WRDA bill and to see it pass the Senate today on a strong bipartisan vote. This legislation is so important for communities throughout North Dakota and across the country. In a state like ours, where we are constantly dealing with water issues, whether it be too much or too little, this legislation allows critical projects to advance to address our water resource needs," said Heitkamp.
In another press release, U.S. Senator John Hoeven said the WRDA bill successful addresses an important priority. "With authorization for permanent flood control in the Red River Valley we take a big step toward the construction phase of the project," Hoeven said.