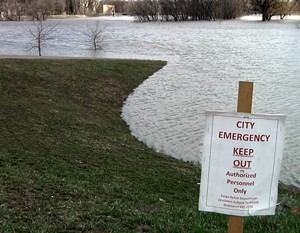 On September 21, the City of Fargo presented a project update on a study by Houston Engineering. The purpose of the study was to provide for storm water master planning including flood protection. As a part of the flood protection portion of the study, the team was attempting to find a way to remove 1,800 homes from the FEMA 100-year floodplain, which would relieve homeowners from having to pay costly federal flood insurance.
The kicker of the study, though, is that it only focuses on how remove the 1,800 homes from the current adopted floodplain and the effects could be temporary. Homes would go back into the floodplain in as soon as five years, according to FEMA.
The FM Area Diversion Project is the only project designed to provide permanent flood protection and removal of these homes from future anticipated changes to the 100-year floodplain.
Since 2009, Fargo has spent approximately $120 million on more than 18 miles of permanent levees throughout town in hopes of getting the city out of the sandbag business when the next flood comes. The work to date would have removed the need for 4.5 million sandbags during a flood fight similar to 2009's. As the ability to construct in-town levees nears its maximum potential, Fargo is beginning to fill the final gaps between the levees in order to begin the certification process with FEMA, which includes permitting through the State of North Dakota.
Even with the tremendous in-town effort so far, 1,800 homes remain in the existing FEMA 100-year floodplain and up to 20,000 homes in Fargo will be at risk when FEMA completes its next remapping.
The study found that based on an initial analysis of the impacts of levee projects when compared to a do nothing alternative, approximately 2,000 acres of land would need to be available to flood ten feet deep to offset lost floodplain and conveyance. This would come at an initial cost estimate of $180 million and may only temporarily solve the problem.
"As a city, our first option is the Diversion. This study helps us as city leaders identify what a contingency plan would be if the Diversion takes longer than expected," said Fargo Commissioner Tony Gehrig. "We need to be able to debate the pros and cons of the options available to us, but right now it is unknown whether the work outcome of this study will even be required."
"This study was not an attempt to find an alternative to the Diversion Project. It has always been understood that the in town efforts that the City has undertaken are not able to achieve the necessary elevations to continue to keep existing homes out of the future floodplain. For that, we need the Diversion," said April Walker, Fargo City Engineer. "This study looked at near-term solutions to providing real flood protection and relief to city residents. The Diversion Project is the long-term solution to flooding in the city and the surrounding metro area."