The FM Area Diversion Project requires different types of property rights to build and operate the Project. The Project requires the acquisition of over 9,000 acres for the construction footprint along with thousands of acres for hundreds of easements for the temporary and occasional storage of flood waters before the Project operates. Also required is a mix of easements and access to more than 370 parcels along local rivers, streams, and waterways to allow for environmental monitoring of biological and soil conditions.
The Cass County Joint Water Resource District (CCJWRD) has been working with landowners for over a decade to obtain necessary properties and easements for the study, design, and construction of the Project in North Dakota. In 2019, the Moorhead-Clay County Joint Powers Authority (MCCJPA) was formed to do the same in Minnesota.
To date, more than 350 properties and property rights have been acquired for the Project, including approximately 4,000 acres of farmland, and more than half the land needed for the 30-mile Diversion Channel. The remaining channel lands are expected to be acquired by the end of the year. In addition, over the past year, CCJWRD and MCCPA have worked with landowners to obtain access on over 320 properties for biological and geomorphic studies related to the Project.
acres
are Needed for the Project Construction Footprint
+ Property Rights
Have Been Acquired for the Project as of April 2020
Access to + Properties
for Biological & Geomorphic Studies Have been Procured
"The progress we have made on acquiring the necessary access to property and rights really demonstrates how this Project is slowly, but surely, moving forward," FM Area Diversion Project Executive Director Joel Paulsen said. "We know acquiring property and access for the Project is sensitive, but it is also critical. Our lands team has worked hard to communicate and work with landowners in a fair, friendly, and flexible way. They will keep moving forward with acquisitions as necessary to prepare for additional construction of pieces of the Project."
"Every time we have to acquire a property right or buy land, we diligently work to make sure we are working closely with landowners to acquire the property rights and access we need for the Project," said Dan Jacobson, chair of the CCJWRD. "This attention to detail and diligence in terms of our commitment to working with landowners has helped our Lands program continue to move forward."
CCJWRD works with landowners to reach amicable agreements.  Only as a last resort, CCJWRD will seek court orders to obtain the right to enter upon property, but only as necessary to survey, map, and collect samples for geomorphological and biotic surveys.
"We want court orders to be a last resort in terms of accessing properties and that is how we approach all negotiations.  We are following the law and if we have no choice, we will ask the court to grant us the necessary rights of entry to conduct these studies," Jacobson said. "We are landowners ourselves and we take all of these obligations, and the concerns of landowners, very seriously.  Ultimately, we know access to conduct these studies is necessary for the Project."
Accessing Property for Scientific Study and Monitoring
Research efforts began in 2009 when the U.S. Army Corps of Engineers (USACE) began conducting a Feasibility Study in relation to flood protection for Fargo and Moorhead.
Scientific sampling, research, and monitoring for a project is required for several reasons. First, studies provide a snapshot of the condition of land, water, and natural resources before a Project is designed and built. Continued monitoring helps develop a complete picture of the environmental conditions and determine if the Project causes any unforeseen changes. The monitoring is conducted under an adaptive management plan, which is a guidebook for how decisions are made in regard to the Project and natural resources, and the monitoring is necessary to be in compliance with the National Environmental Policy Act (NEPA).
Scientists and experts with, and contracted by, USACE perform the studies. Typically, there are a few main steps to completing a study. First, access to the property is necessary to conduct the studies. The access agreements used by CCJWRD and MCCJPA allow scientists to collect samples and conduct monitoring.  The researchers notify property owners in advance to let them know when and how they will gather samples. When they enter the property and gather the necessary samples, the researchers are as careful as possible to avoid disturbances to the environment or to the landowner's property.
Biological Surveys and Monitoring for the Project
Gathering Soil Samples with Borings
Monitoring sites exist in Minnesota and North Dakota and include multiple waterways in the region, including the Wolverton Creek and the Buffalo, Lower Rush, Rush, Maple, Sheyenne, Wild Rice (ND), and Red Rivers. The monitoring includes studying fish, clams, and bugs in the water and riverbanks. In addition, the monitoring includes examining the physical conditions of the waterways. Scientists note the width, depth, velocity, and flow rates of the river or stream. Scientists document existing conditions before the Project is built to determine if the Project has caused changes over time.
"Having access agreements secured is important so we can ensure the correct scientific monitoring is done at these locations," Paulsen said. "State and federal law require this type of study, so we can determine if the Project is having an impact on soil or aquatic health."
"We are working hard to help landowners understand what our easements and right of entry agreements mean.  This is an important aspect of developing the Project; at the same time, we are sensitive to the concerns of the landowners.  The studies are important to help ensure the future health of our rivers and land," Paulsen added. "We will continue moving forward and working with landowners to obtain the easements and rights-of-entry needed to make sure the scientific studies performed meet the required regulations of our state and federal governments."
Mitigating Impacts and Finding Balance
The final portion of property rights and easements that must be acquired before the Diversion Project can operate are necessary to mitigate the impacts the Project causes and to remove structures from harms-way. When the Project operates in order to protect the metro area from potentially devastating flooding, water must be temporarily stored upstream, or south of the southern embankment.
When floodwaters are stored temporarily on land, it has an impact and those impacts must be mitigated.
"Dealing with impacts from the Project, and balancing those with the need for flood protection, is possibly the hardest part of this," Paulsen said. "Although the land can still be farmed, there are potential impacts to farming operations and development potential. We understand that and it is difficult, but not impossible, to work through. We must work through this because of the importance of protecting the metro area from devastating flooding."
State and federal law, primarily the federal Uniform Relocation Act, requires compliane with certain processes to ensure people currently living or operating a business, including farm businesses, in the impacted area are fairly compensated and receive relocation assistance. Due to the flooding the Project will create when operating, there is an identified Upstream Mitigation Area where homes or businesses will need to be removed or relocated. There are approximately 100 properties with structures located within this Area.
"Moving families, homes, and businesses is hard for everyone. We have had some situations where families have approached us with the desire to move early and it has worked well for them and for the Project," Paulsen said. "We are steadily working with others in the Upstream Mitigation Area to ensure everyone knows the guidelines and process.  We will most certainly treat them fairly."
Paulsen said there are some impact boundary lines that will be set officially after the Federal Emergency Management Agency (FEMA) finishes its review of the hydrologic and hydraulic characteristics specific to the Project.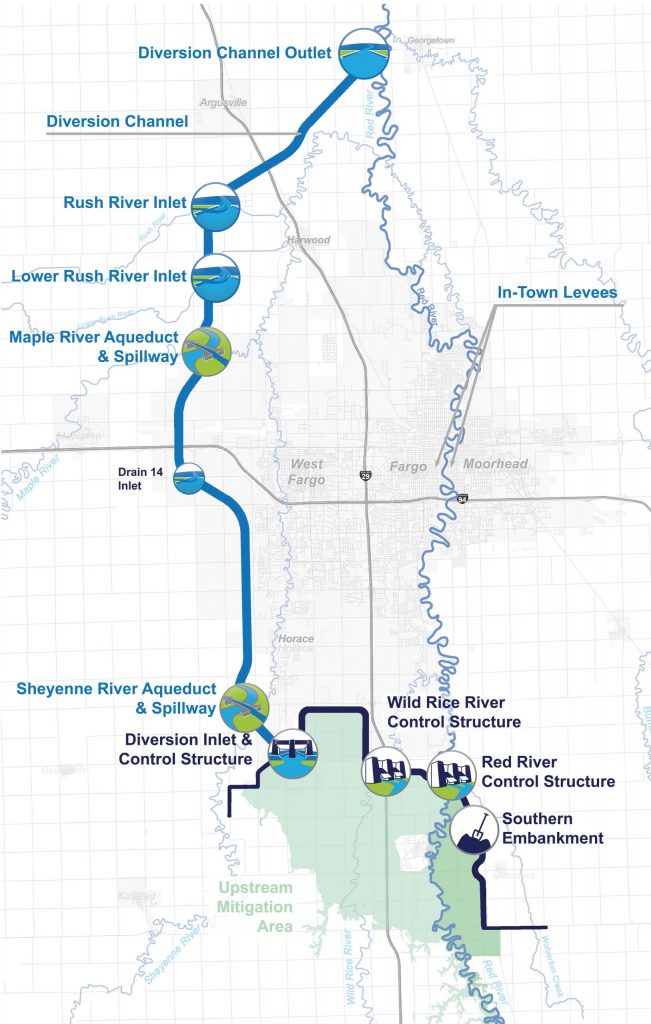 Joel Paulsen
Executive Director
"We are steadily working with others in the Upstream Mitigation Area to ensure everyone knows the guidelines and process. We will most certainly treat them fairly."
"We hope to hear this spring from FEMA about the Conditional Letter of Map Revision," he explained. "This will bring certainty to the location of impacts and what properties are impacted, and by how much."
What is a CLOMR?
"We hope to hear this spring from FEMA about the Conditional Letter of Map Revision," he explained. "This will bring certainty to the location of impacts and what properties are impacted, and by how much."
Another document that will provide clarity for the Upstream Mitigation Area and the mitigation requirements in North Dakota is currently under review in Bismarck. The fifth draft of the Project's Property Rights Acquisition and Mitigation Plan is being reviewed by the North Dakota State Engineer and outlines various ways those impacts are mitigated.
The comprehensive Plan outlines various mitigation programs, including:
Flowage Easements that will compensate property owners for the impact associated with the potential for additional flooding and the restriction on future development.
Summer Operation Crop Loss Program that offers insurance to cover losses to farmers if a massive rain event causes the Project to operate in the summer months when fields are already planted.
Post-Operation Debris Clean-Up Program that provides assistance for cleaning up debris on property after a flood event when the Project operates.
Additional tools are being developed, including a Dispute Resolution Board and a program for helping re-establish displaced businesses and farmsteads.
"These tools will give us the ability to help farmers, landowners, and those operating businesses in the Upstream Mitigation Area to continue their work with the least disruption possible from the Project," Paulsen said.
While those tools are important, Paulsen said it is also important to know there are various studies being conducted to help develop methods for compensating property owners for temporarily storing water on their land during times of extreme floods.
"We are updating a study comparing how flooding and easements in other parts of the country impact property values, along with a research study from NDSU agribusiness department regarding the risks to agricultural operations. These efforts will help explain the impacts and define the compensation that will be made to impacted property owners," Paulsen said.
As with most aspects of the Diversion Project, the details are numerous, complex, and, at times, emotional.
"Any time land or natural resources are discussed, it is an intense and important conversation," Paulsen said. "We are trying hard to work with all stakeholders for the future of our community. Floods never just impact one person. They affect an entire community, an entire county, an entire region. Finding solutions that balance impacts and protection is something we will keep wrestling with every day."