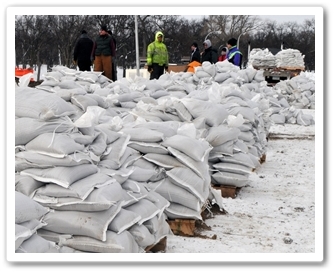 Following a mid-April winter-like storm which dumped up to ten inches of wet snow on the southern Red River Valley, Sandbag Central in Fargo will reopen so municipal crews and volunteers can fill more sandbags for the 2013 flood fight.
As of this writing, the National Weather Service is working on updating its flood forecast and warns that the chances of a major flood are growing significantly. Added to the concern are various unknowns regarding any chance for rain. A late thaw and heavy rains during the snow melt devastated Minot, ND, during its 2011 flood.
This is, of course, too close for comfort for everyone in the Fargo-Moorhead area. Even more serious flooding threatened the same region as recently as 2009, 2010, and 2011. In fact, the Red River has exceeded flood stage in 48 of the past 109 years, including every year from 1993 through 2011. The Red River is on course to exceed flood stage once again in 2013.
Each of the past flood events illustrates the urgency of effective permanent flood protection for the area. The Fargo-Moorhead (F-M) Area Diversion Project is designed to provide that protection, and is the only project capable of holding back the kind of flooding experts say is possible in the future.
This is a good time to review the seriousness of what have become more frequent and significant flood threats, and how the Diversion Project would nearly eliminate these threats up to a 100-year flood event, with the capability of fighting a 500-year flood using emergency measures.
Residents have been successful at preventing significant damages during past flood events by constructing emergency levees along large portions of the Red River. However, constructing the emergency levees takes significant financial and human resources, causes business and traffic disruptions, and is taxing to the social fabric of the communities.
Although the emergency levees have been successful in the past, there is a high risk of a catastrophic failure which could result in significant damages and loss of life. Also, the past success of emergency levees has created a false sense of security in some who may not appreciate the risks of flooding.
Significant costs are incurred during emergency flood fighting efforts. During large flood events, people in Fargo and Moorhead build as many as 80 miles of emergency levees through town in an effort to retain flood waters. Businesses, residents, federal agencies, local and state governments, as well as humanitarian organizations such as the Red Cross and Salvation Army all contribute to the flood fight, rescue and clean-up efforts.
An extreme flood event, like those experienced in the recent past in Bismarck, Grand Forks and Minot, could lead to more than $10 billion in damages to the Fargo-Moorhead area.
The FM Diversion would reduce a 100-year flood event from 42.4 feet to 35 feet at the Fargo gage. For reference, the 2009 flood of record peaked at 40.8 feet.
Though not designed to protect to a 500-year flood event, the FM Diversion would give the area a chance by reducing the river level in Fargo from 46.7 feet to 40 feet during a 500-year event.
The Fargo-Moorhead Area Diversion Project will establish permanent flood protection measures for the region.
Similar Posts: