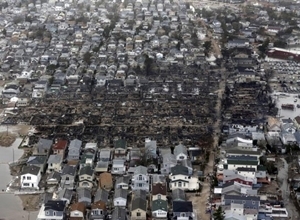 The recent massive natural disaster on the East Coast underscores why municipalities need to be ready to protect people from anything nature can deal out. Superstorm Sandy is blamed for the deaths of at least 177 people in the U.S., Canada, and the Caribbean. It is already ranked among the most expensive U.S. disasters ever. Experts predict it could cost up to $50 billion to repair the damage to homes, businesses, and infrastructure.
The kind of natural disaster that has plagued the Fargo-Moorhead area most often in recent years is flooding. Floodfighters, from the professional to the average homeowner, have fought several floods of less than 100-year frequency successfully. However, we can't allow our successes lull us into thinking we can continue to prevail without permanent flood protection.
In 1997, floodwaters and a fire devastated Grand Forks, the images of which are eerily similar to the images of Queens, New York during the height of Sandy's rage. Like downtown Grand Forks 15 years ago, the New York City borough was simultaneously ablaze and underwater.
In 2011, Minot, ND lost its battle with Missouri River flooding, and residents are still in process of recovering.
The Fargo-Moorhead Area Diversion Project will protect the area from the kind of damage and difficult recovery process that Grand Forks and Minot experienced. Fargo-Moorhead is a regional center for employment, medical care, higher education, travel, and shopping. A study by the Greater Fargo Moorhead Economic Development Corporation indicated that more than 100,000 jobs within the Fargo-Moorhead area could be affected if a flood decimated this economic hub. The effects of a devastating flood would ripple through the entire upper Midwest; businesses would be negatively affected, causing a spike in unemployment; homes would be destroyed, leaving thousands homeless; the sick would need to travel hours away to get to a hospital in Minneapolis, Sioux Falls, or other areas; and damaged bridges would impede travel.
The F-M Area Diversion Project is the best solution for protecting this region's prosperity and our way of life.
Similar Posts: