The Fargo-Moorhead area diversion project is designed to provide 100 year flood protection and provide the ability to fight flooding from up to a 500-year event. Events in the last few decades show a pattern of flooding at increasingly large levels.
Since 1900, the Red River at Fargo has experienced 13 major flood events. Of the 13 events that have exceeded major flood stage, six occurred in the last two decades and include the largest flood on record, the Flood of 2009.
A greater number and higher severity of major floods in recent years has led to a wider fluctuation in flood frequency. This indicates a regional transition from a dry cycle to a wet cycle, which can be seen in Figure 1, in which the blue bars indicating maximum river flow rates tend to be larger, more frequently, as time goes on.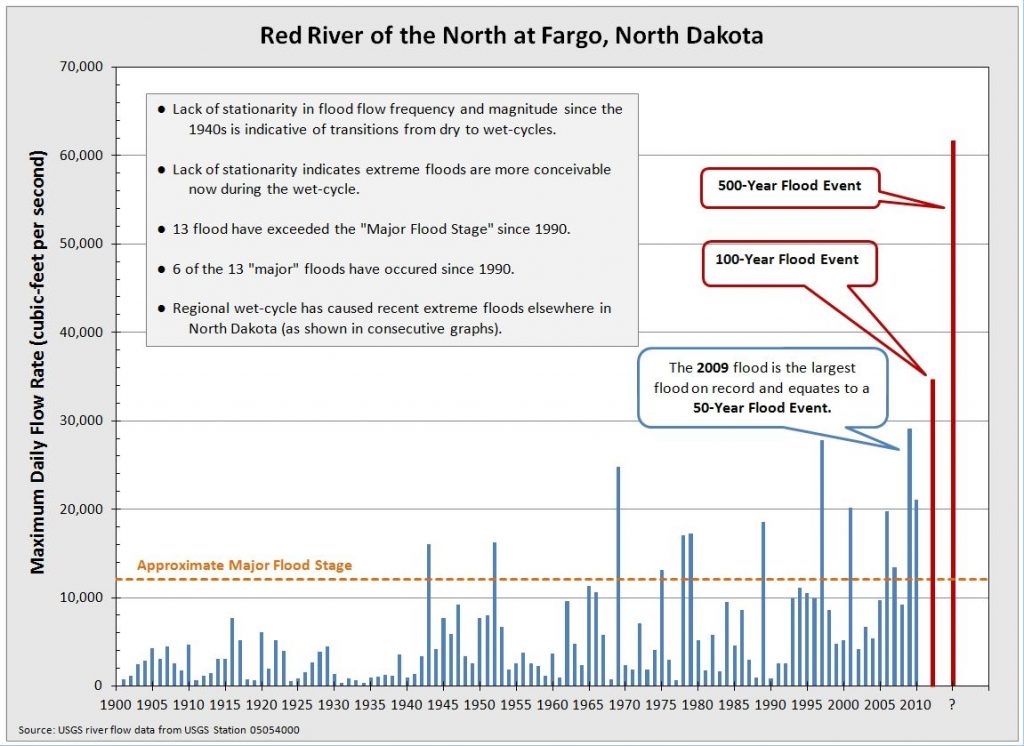 Recent modeling indicates the Flood of 2009 equates to approximately a 50-year flood event, meaning it has a 1 in 50 chance of occurring in any given year. The same modeling suggests that a 100 year flood event (1 in 100 chance of occurring in any given year) and a 500-year flood event (1 in 500 chance of occurring in any given year) would dwarf all flood events on record, as shown by the red bars in Figure 1. The term "100-year flood" does not mean a flood of this magnitude won't occur for 100 years, but rather indicates the long-term probability of a similar flood. In fact, a 100-year flood has the same probability of happening in any given year.
Because of the regional wet-cycle, recent extreme flood events occurred elsewhere in North Dakota in 2011, specifically at the Missouri and Souris Rivers. Record snowfall in Montana and unprecedented spring rainfalls caused flow conditions in the Missouri River that have not been seen since the construction of control structures on the river system. Figure 2 shows the maximum yearly flow rate in the Missouri River at Bismarck, and it is clear that 2011 was the extreme flood event on record.
The Souris River experienced a very similar event in 2011, with flow rates in the river nearly triple the maximum flow rate on record, as seen in Figure 3. This flood event devastated Minot, North Dakota, and is another example of extreme floods occurring in the region.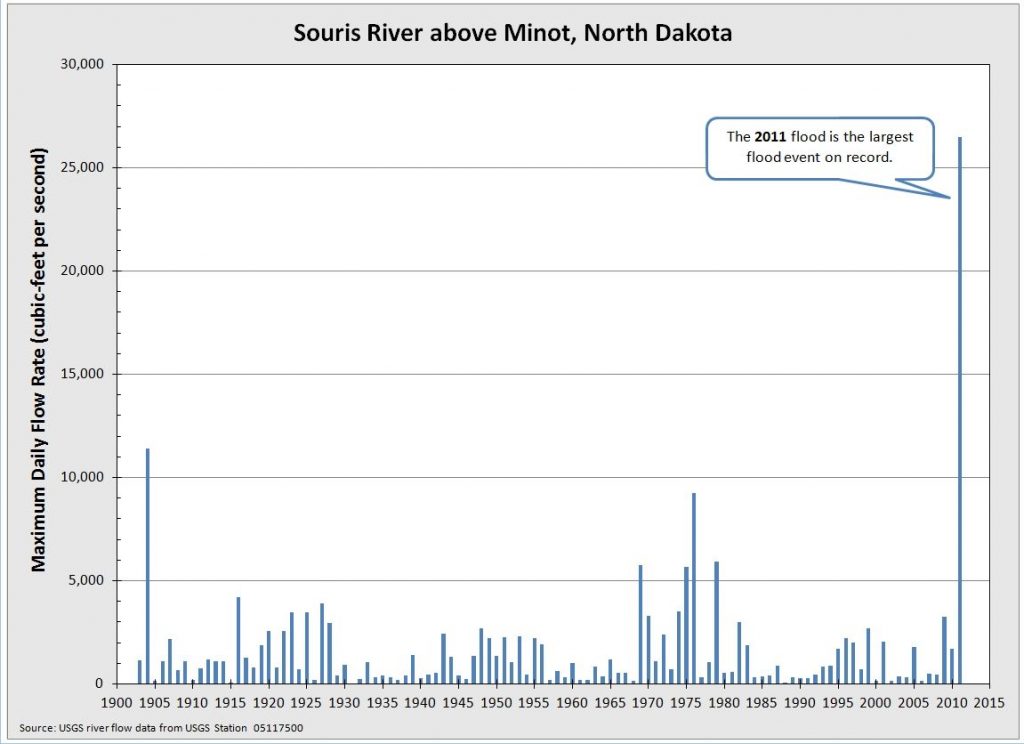 Extreme flood events do, and can, happen, as evidenced by the flood events of 2011 on both the Missouri and Souris Rivers in North Dakota. An extreme flood event on the Red River near Fargo is not an unrealistic event, given the regional wet-cycle and recent flooding issues experienced throughout the region.
The F-M Metro Area Diversion Project is needed to protect the greater Fargo-Moorhead area from the kind of flooding we have not seen in recent history.