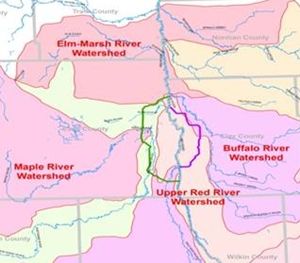 An initiative is underway which could lead to retention efforts being incorporated into flood control plans in the Red River Basin. These efforts to retain water in various locations would also complement and improve the performance of the Fargo-Moorhead Area Diversion Project.
A retention site identification effort is underway by local Water Resource Districts in North Dakota and Watershed Districts in Minnesota. Mainstem impacts and a prioritization plan is being guided by Lance Yohe, Executive Director of the Red River Basin Commission (RRBC). Retention is a key component to reduce flood damages, and will provide basin-wide benefits. Retention is also a major component of the Long-Term Flood Solutions Recommendation/Report (LTFS) that was funded by North Dakota and Minnesota through the RRBC.
The proposed regional retention project has three phases. The first phase covers the area upstream to Halstad; the second phase to the international boundary; and the third phase to Lake Winnipeg.
The Diversion Authority has authorized a total of $25 million to be used toward retention options. In October, the Diversion Authority granted $500,000 for Phase I modeling efforts for retention site identification and prioritization upstream of Halstad. The RRBC is working with the North Dakota State Water Commission and the Minnesota Department of Natural Resources to study upper Red River Basin retention.
Phase I will model the impacts of retention sites being identified through local water boards in Minnesota and North Dakota, and then prioritize the sites based on local, regional, mainstem and Fargo-Moorhead area benefits. This will pave the way for engineering and construction of retention sites as landowner buy-in, funding and permits become available.
Prioritization of these Phase I modeled sites will be achieved by guidance and input from the local Watershed Districts in Minnesota, the local Water Resource Districts in North Dakota, the Minnesota and North Dakota Joint Water Boards, the Red River Retention Authority (RRRA), and the LTFS Implementation Committee. The RRRA will be asked to lead the prioritization effort for the regional perspective that links to local needs.
Specific prioritization for the F-M project will occur as the Diversion Authority develops its funding criteria with input from the F-M Technical Team and the LTFS Implementation Committee.
The Diversion Authority is committed to designing and constructing the Diversion Project as the best solution for providing long term flood risk reduction. The Authority recognizes that the Project, by itself, is just one regional solution, and that other regional flood damage reduction initiatives are required to complement the Project in order to reduce the risks from flooding throughout the Red River Valley and entire region.
Similar Posts: