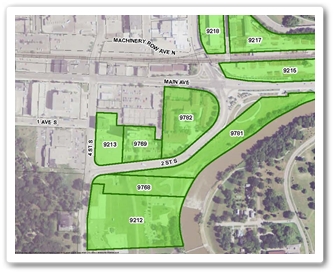 People affected by property acquisitions along 2nd Street in downtown Fargo which will make way for a permanent floodwall will be getting answers soon.
The Diversion Authority will be acquiring several properties near downtown (download a map showing affected parcels here) to continue the construction of intown levies which will improve flood protection through Fargo, and also work in concert with the F-M Area Diversion Project to provide permanent flood protection and reduce impacts upstream during the operation of the Diversion. Construction on the floodwall could start next year.
The acquisitions process of property within North Dakota associated with the Diversion Project is being led by the Cass County Joint Water Resource District (CCJWRD), which has the legal authority across the multiple jurisdictions.
One property that will need to be acquired, and ultimately demolished sometime in the future, is the Park East apartment building, which has approximately 200 residents. The CCJWRD has already contacted the property owner, but federal appraisal and acquisition will take some time. Residents will likely not need to move out of the building prior to early next spring. Residents who moved into the Park East building during the three-month period before the purchase agreement is agreed upon will receive relocation assistance.
"Relocation professionals will be meeting with every tenant in the next couple months to give them an indication of just how they should proceed," said Pat Zavoral, Fargo City Administrator. "We still have a few policy discussions to consider as we move forward because there may be some people who decide to move out ahead of the relocation assistance timeline, because they have an opportunity to move into a nursing home or some kind of living accommodation that fits them best. Then, we'll have to make a decision as to whether or not we will assist them on some level."
In the meantime, the Diversion Authority and its relocation professionals are looking at which kinds of units are available in the area to help residents move.