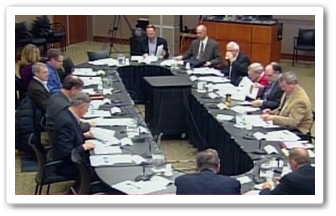 The Diversion Authority is widening its focus in the development of an Agricultural Impacts Mitigation Plan to address concerns about how the F-M Area Diversion Project will affect organic farming.
The Agricultural Impacts Mitigation Plan includes providing flowage easements and supplemental crop insurance for lands impacted by the Diversion Project.
"We're also looking at the organic farmers on the Minnesota side that will be impacted by this project.  Roughly 3,000 acres that are certified organic could be affected," said Rodger Olson, Joint Water Resource District Manager and Diversion Authority member.
"We had a really good discussion with Mark Askegaard, who's an organic farmer, who really brought us some good information at our last meeting.  This is a very important issue to operators.  They've established their market and worked very hard keeping their acres certified organic so we need to be able to solve this issue for them," said Olson.
The Plan goes beyond the minimum federal requirements, which are limited to purchasing flowage easements.  The Plan indicates that the Diversion Authority will also provide crop insurance.  These features of the Plan will help mitigate the impacts from operation of a key component of the Diversion Project: the upstream retention or staging area immediately south of the Project's southern embankment.  The staging area will temporarily store flood waters on agricultural land to mitigate downstream impacts during times of excessive flooding.
The economic consulting firm Watts and Associates, Inc. (W&A) has been retained to prepare an initial options paper.  The initial options paper will outline six different options to address the impacts.  W&A specializes in crop insurance development, agricultural finance, agricultural risk analysis and econometric consulting, and is based in Billings, Montana.