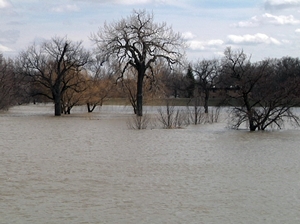 The FM Area Diversion Project is the only project which is capable of negating the predicted sharp rise in flood insurance premiums for thousands of Fargo homeowners in the coming years.
Dr. Tim Mahoney, Mayor of the City of Fargo, delivered that message to the North Dakota Water Topics Overview Committee earlier this month.
A Long Way to Go
Mayor Mahoney began his testimony by summarizing great strides the City of Fargo has made to protect residents, businesses and infrastructure. "Since 2009, we have built 15 miles of permanent earthen levees and another mile of flood wall. These improvements have reduced our sandbagging needs during a flood by four million bags; however, we still have a long way to go to feel safe from flooding," said Mahoney.
Another 2,000 Homes Added to Fargo's Floodplain
The Federal Emergency Management Agency (FEMA), which dictates the 100-year floodplain and flood insurance requirements, increased the floodplain in January, putting an additional approximately 2,000 homes into Fargo's floodplain. These were 2,000 homes that previously were thought to be safe that are now at risk.
"The levee work done to date and our plans for the future will help alleviate the flood insurance requirements and will go a long way to removing these homes from the floodplain," said Mahoney. "This is a big deal for these homes and to the homeowners as new flood insurance plans on an average home can cost several thousands of dollars a year. This is a significant economic impact for our City, State, and region."
Rising Flood Insurance Premiums
Mayor Mahoney continued his testimony by recapping a visit to Fargo in April of a top FEMA official, organized by Sen. John Hoeven. "FEMA was very clear with those of us at the table," said Mahoney. "The information they used for the remapping that went into place in January was based on old data. FEMA said that in five years, they will be back to remap our local area utilizing all of the recent river data, including the last decade of extreme flood events like the 2009, 2010, and 2011 events. Experts tell us that this remapping will put another 20,000 homes in Fargo into the floodplain and require them to buy flood insurance."
This means in five years, the total annual premiums paid locally would increase tenfold. "That is the economic crisis that is facing Fargo, the surrounding metro area, and the State of North Dakota," said Mahoney.
Only the Diversion Project Can Solve the Crisis
Levees in town are a critical aspect of Fargo's flood protection plans, but they cannot prevent the flood insurance requirement. Only the Diversion Project can provide 100-year flood protection to the level needed.
"Your support in the past has meant so much to me and the citizens I represent," Mahoney told Committee members. "We will need that support going forward as we continue to face the challenges ahead. On behalf of the City of Fargo, thank you for the time and effort you all have put in on our efforts. We appreciate it and it will not be forgotten."