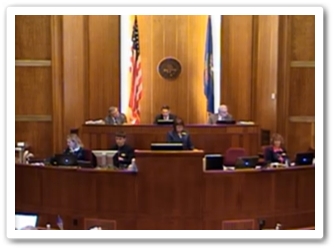 North Dakota House Bill 1020, which includes financial support for the Fargo-Moorhead Area Diversion Project, was signed into law by Governor Jack Dalyrmple on May 2. The legislation provides $100 million for flood protection efforts in Cass County. The legislation also provides legislative intent for a total of $450 million in state funding for the FM Area Diversion Project once certain conditions are met. The $100 million is included within the total $450 million.
"We are pleased to have the support of the state legislature and Governor Dalrymple for the FM Area Diversion. Together we will work to make sure people in the Fargo-Moorhead area have the flood protection they deserve," said Darrell Vanyo, Cass County Commissioner and Chair of the FM Diversion Authority.
The legislation specifies that the $100 million appropriated this biennium can be used only for levee and dike protection projects until the following conditions are met:
1. The Diversion Project receives federal authorization.
2. A project partnership agreement has been executed.
3. A federal appropriation is provided for the project's construction.
4. The budget for the Diversion Project is approved by the State Water Commission.
HB1020 expresses the interest of the State Legislature in hearing biannual updates at the budget section on the status of these conditions along with information on crop insurance, easements, costs, and the status of ongoing mitigation efforts.
The legislation also allows for time for the mitigation of impacts from the Diversion Project on upstream communities. The legislation has language that prohibits construction, except for ring dikes and levees, south of Fargo's extraterritorial zoning jurisdiction until July, 1 2014.
"We know what the impacts are from the project and addressing them is one of the top priorities moving forward for the Diversion Authority," said Vanyo. "We are fully committed to mitigating these impacts and working with the residents upstream to ease their concerns."
Similar Posts: