Leaders from the City of Moorhead and Clay County held a series of meetings in the St. Paul this week at the Minnesota state Capitol. The group met with legislative leadership from across Minnesota to discuss Moorhead's need for flood protection and the FM Area Diversion Project. Trip attendees included Moorhead Mayor Del Rae Williams, Councilman Joel Paulsen, Councilman Chuck Hendrickson, and Clay County Commission Grant Weyland.
"I always appreciate the opportunity to share what's going on in Moorhead with legislative leaders across the state," said Mayor Williams. "The willingness by those across Minnesota to listen, understand and support our flood protection efforts shows what a great state we live in."
In addition to discussions with District 4's Sen. Eken and Rep. Marquart, meetings were held with Sen. Ingebrigtsen, Sen. Senjem, and Sen. Gazelka along with Rep. Urdahl and Rep. Fabian.
"Our intent was to raise awareness of how important this project is to Moorhead; and I couldn't be happier at how much legislators were willing to dig into the issue with us," said Councilman Paulsen. "It was a successful trip because our state leaders were attentive in listening and really engaging with us on why the Diversion Project is needed to protect Moorhead."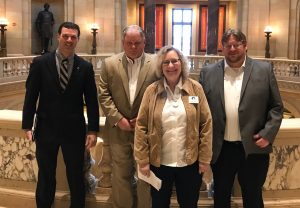 Legislators were interested to hear the history of Moorhead and Clay County's involvement in the Diversion Project.  The involvement started with a federal feasibility study in 2008 and a series of joint meetings after the 2009 flood of record. These efforts led to the creation of the Diversion Authority.
The Diversion Authority members also shared the extensive history of involvement by the State of Minnesota in the development of the project. This history includes a trip to Washington D.C. by the Governor of Minnesota and Minnesota DNR in 2010 to meet with top Army Corps officials to support the shift of the project's alignment from being located in Minnesota to its current alignment in North Dakota.
Discussion in the meetings this week also centered around the Minnesota DNR's environmental impact statement and the associated project impacts upstream of Fargo-Moorhead.
"All flood protection projects create impacts elsewhere. Maps showing changes to the regulatory floodplain due to a permanent project can be shocking. We tried to show legislators that even with our temporary measures (sandbags and clay levees), we back up a significant, if not similar, amount of water upstream," said Paulsen. "The federal project helps define the actual risks of flooding and allows us to fairly compensate those impacted upstream with or without the project. Right now there is no compensation available because those temporary measures are used during emergency situations."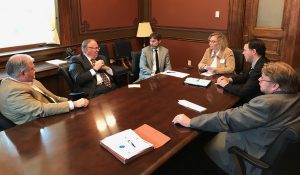 The Project's financials were a point of discussion, with legislators seeking to better understand what the request will be from Minnesota. Representatives of Moorhead and Clay County explained that 98 percent of the cost of the Project would come from federal and North Dakota sources. The total cost of the Diversion Project is approximately $2.2 Billion; $43M of which is anticipated to be requested from the State of Minnesota in future legislative sessions. This amount is based on a benefit formula proposed by the DNR in its EIS.
"This is a good deal for the State of Minnesota," said Mayor Williams.