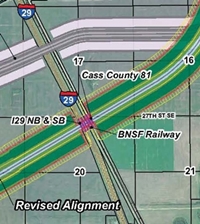 The U.S. Army Corps of Engineers, St. Paul District, in cooperation with the Flood Diversion Authority, hosted a meeting Monday night in Harwood, ND, for landowners directly affected by revisions to the north end of the proposed diversion channel for the Fargo-Moorhead metropolitan area.
The meeting was held specifically for landowners who live along the revised alignment, which runs from the Maple River north to the proposed diversion outlet structure, located on the Red River near Georgetown, MN.
Approximately 200 people attended the meeting to hear details on the project from Corps and Diversion Authority members.
The meeting focused on the specific properties impacted by the revised alignment, and what landowners can expect as the project moves forward. The landowners are being given opportunities to hold one-on-one discussion sessions with Corps representatives through Wednesday.
The revision to the alignment includes a shorter channel length and reduced rip-rap requirements, which would improve the efficiency of the project and potentially yield millions in cost savings. These types of refinements to the alignment will also be explored for future channel sections.
The Corps is in the design phase of the project now, and is modifying the originally-proposed alignment from what was shown in the feasibility study to improve the efficiency and substantially reduce the cost of the diversion.
A map of the revised alignment can be downloaded by clicking this link: Map of Channel Alignment, Maple River to Outlet (December 2011) Three larger-scale maps are found at this link: Three Larger Scale Maps, Maple River to Outlet (December 2011)