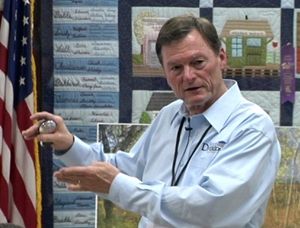 The Fargo Moorhead Metro Area Diversion Project will be one of the largest construction projects ever built in the Red River Valley. As such, creating this much-needed flood protection project is a task unlike anything ever attempted in this region. For that reason, a Colorado-based firm which works on water projects throughout the U.S. and internationally is serving the Flood Diversion Board of Authority as its program management consultant.
Employee-owned CH2M HILL is a global leader in consulting, design, design-build, operations, and program management for government, civil, industrial and energy clients. The Denver-based firm's work is concentrated in the areas of water, transportation, environmental, energy, facilities and resources.
With 30,000 employees, CH2M HILL has ranked #1 in the industry for Program Management by Engineering News-Record for several years, and has been named a leader in sustainable engineering by Verdantix. The firm has been named a "FORTUNE 100 Best Companies to Work For" five times. Recently, CH2M HILL has become involved in projects like the development of the first fully sustainable city: Masdar City in the United Arab Emirates. Other groundbreaking endeavors for the firm include serving as program manager for the landmark expansion of the Panama Canal, a project that is meeting the need to accommodate the world's largest ships. Completion of this massive effort is scheduled to coincide with the canal's 100th anniversary.
Leading CH2M HILL's presence in Fargo-Moorhead is Tom Waters, Program Manager of the Diversion Project. "We have a very complex problem, project, and organization that must be knitted together," Waters says. "For us, it's like starting with broad cloth. All of those pieces and parts need to be woven together to march toward a successful solution to the problem and build the project."
Waters retired from the U.S. Army Corps of Engineers (USACE) in October, 2007, as its Chief of Planning and Policy in Washington, D.C. He worked with Congress, the Administration and stakeholders to plan and implement water resources policy, programs, and projects. He served as a key national leader for initiatives such as the development of the 2007 Water Resources Development Act (WRDA), and formed partnerships with Federal Emergency Management Agency (FEMA) and national stakeholders to enact new post-Hurricane Katrina national flood risk policy and programs.
Throughout his 32-year career, Waters served on assignments in various other locales, including Iraq, New York City, Georgia, New Hampshire, Tennessee, and Louisiana as a member of three Corps Districts and three Corps Divisions. His experience includes the planning, design, and construction of major complex water resource and infrastructure projects throughout the U.S. and overseas. Those projects involved dams, flood control, water supply, navigation, ecosystem restoration, and harbors. In his five years with CH2M HILL, he has managed several water resources projects, including the emergency coastal barrier project for the State of Louisiana following the BP oil spill.
"We've seen different aspects of the flooding problem in the Fargo-Moorhead area in other parts of the world, and faced the various organizational challenges you have when you combine numerous entities together to form a team," said Waters. "That's where I think our experience helps."
Waters is one of a handful of CH2M HILL employees now located in the F-M area bringing extensive flood control and program management experience to the Diversion Project.
Jon Diebel, Senior Program Manager, has 37 years of experience in the design and construction of facilities and appurtenances for raw, potable, and recycled water systems.  He worked for the Denver Water Department for over 30 years, and managed its Capital Improvement Program, which included projects on dams, water supply structures, and river diversions for 15 years.  Prior to his work on the FM Diversion project, he completed a role as Program Manager for a large water supply project for Aurora, Colorado.
Bruce Spiller is a Civil Engineer with significant program management, design-build, and construction management experience.  Most recently, he was the Project Director for the first phase of Colorado Springs Utilities' $900 million, 78-mgd water delivery system, called the Southern Delivery System.  He was responsible for providing project management of preliminary design and final design of pipelines, pump stations, a water treatment plant, and land acquisition services.  Spiller also has extensive experience in the evaluation and design of conveyance systems, and water and wastewater treatment facilities.  He has participated in all phases of projects for both municipal and industrial clients.
Tom O'Hara, Senior Program Manager, brings to the Diversion Project his leadership skills at USACE in St. Louis.  There, as Commander of the St. Louis District of USACE, he commanded an 820-person engineering, construction, and water resources operations organization which covered a large part of Missouri and Illinois.  He was responsible for all aspects of project delivery, employee development, and customer interface.  O'Hara was also the Commander of the 27th Engineer Battalion of the U.S. Army in Fort Bragg, North Carolina.  O'Hara joined CH2M HILL in 2011 after a 26 year Army career.
Moving forward, CH2M HILL and several local and regional engineering firms are building a web of progress toward completing the Diversion Project.  "We're talking about very broad, complex concepts in terms of the problem that's here, the project that's been identified but not designed yet, and a complicated interagency governmental group that's been formed as one authority to manage the program," Waters says.  "I think they were very wise to recognize that it would be helpful to have a specialized firm to help deal with those complexities."