Members of the Flood Diversion Board of Authority traveled to both Minot, ND and Washington D.C. earlier this month to update local and federal lawmakers about the progress of the Diversion Project.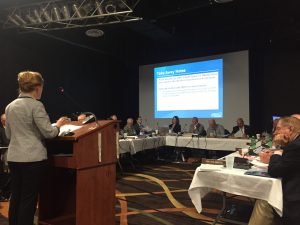 Cass County Commissioner Mary Scherling and Fargo City Commissioner Mike Williams presented information about the Diversion Project to North Dakota lawmakers at the Water Topics Overview Committee meeting in Minot. The pair presented information about the final environmental impact statement completed by the Minnesota DNR in May, plans to start construction this fall, a recently updated financial plan, and on the status of land acquisition.
Scherling reported to the Diversion Authority Board that the presentations went well and she was glad to provide lawmakers more information about many aspects of the Project.
The same week, Mayor Tim Mahoney, Chairman Darrell Vanyo, Fargo City Commissioner Dave Piepkorn, Moorhead Councilwoman Nancy Otto, Fargo City Administrator Bruce Grubb and Moorhead City Engineer Bob Zimmerman traveled to Washington D.C. to speak with federal lawmakers and administration officials about the Project.  The trip included meeting with members of the Congressional Delegations from both North Dakota and Minnesota.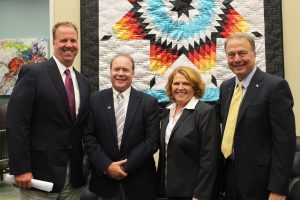 The federal government has committed to paying $450 Million, on top of the $40 Million it has spent to date on Preconstruction, Engineering, and Design, for the Project and are anticipated to execute a Project Partnership Agreement in July.