Fargo City Commissioner Tony Grindberg and Col. Samuel Calkins of the U.S. Army Corps of Engineers traveled to the North Dakota Legislature this week to discuss the FM Area Diversion Project.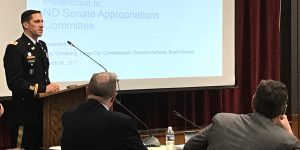 The presentation, made to the Senate Appropriations Committee, included information about the Corps plans to begin construction on the Diversion Inlet Control Structure and the federal commitment to the Project.
The Senate Appropriations Committee is considering House Bill 1020 that includes $66.5 Million for the Project. The State of North Dakota has pledged a total of $570 Million to help support permanent flood protection for Fargo and surrounding communities in Cass County.