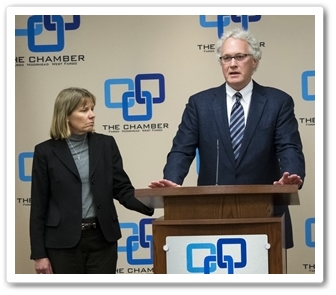 The Fargo Moorhead West Fargo Chamber and the Greater Fargo Moorhead Economic Development Corporation have announced the leadership of their new Business Leaders Task Force for Permanent Flood Protection.
Tom Dawson, President of Dawson Insurance, and Ann McConn, Fargo/West Fargo President of Alerus Financial, have been named chair and vice chair of the newly formed task force, which is committed to ensuring that the importance of comprehensive flood risk reduction stays at the forefront of the region's priorities.
"Our business has been here for 95 years, and like so many hundreds of businesses, we have employees who depend on coming to work every single day," said Dawson. "I've gone through many floods since 1969 and can remember well the panic, suffering, emotion and expense and everything else our community went through. I think this Task Force is going to provide a much-needed voice for permanent flood protection."
"I work for a company, Alerus Financial, that is headquartered in Grand Forks," said McConn. "We have, as a company, a lot of experience in what it means to live and work in a community that is devastated by a flood. I can assure you that we don't want to have to go through that in our region. I am also a Fargo native, grew up here, and care a lot about this region."
At a press conference announcing the task force leadership, Craig Whitney, Chamber President and CEO, called on North Dakota legislators to support the Diversion Project in the wake of amendments to a water funding bill that passed the state House on Wednesday. The amendments would prevent the use of public funds for home buyouts or a diversion.
"We are confident that the North Dakota Senate will restore what we believe was the intent of the governor's appropriation recommendations," Whitney said. "It is very important that the states, the local communities and local governments have a stake in this. When you go to Washington, D.C. to lobby, it is always best to go and be able to answer the question, 'What is the support of your community and states.' That's why it's essential that the state Senate make this right."
Similar Posts: