Local, state and federal officials gathered today to commemorate the fight against the floodwaters of 1997 and officially mark the beginning of construction on the FM Area Diversion Project.
More than 150 people attended the event south of Horace today. The site will be the future location of the Diversion Inlet and Control Structure that marks the southern end of the Diversion Channel.
"We are here to remember all the hard work that went in to fighting those floods and others that followed, but also to look forward to a brighter future," Col. Sam Calkins, commander of the St. Paul District of the U.S. Army Corps of Engineers, said. "We have a project that, in the end, is good for the entire region. It's the public safety of the 230,000 residents of Fargo and Moorhead that is our top priority. The corps of engineers is dedicated to getting this project done."
"We have to have safety. People worry about flooding every spring," Fargo Mayor and Chair of the Diversion Authority Board Tim Mahoney said. "This is a very historic day. We are moving forward at a rapid pace. We will continue to move forward and continue to work with people and find solutions."
"This is a long time coming," Mayor of Moorhead and Vice Chair of the Diversion Authority Del Rae Williams said. "It is not just a Fargo project. It's a Moorhead project too, and of course anything that happens to Fargo in a huge way impacts Moorhead because we are very intertwined as a community. You can see that it is an important to Moorhead, and it really is important to Minnesota."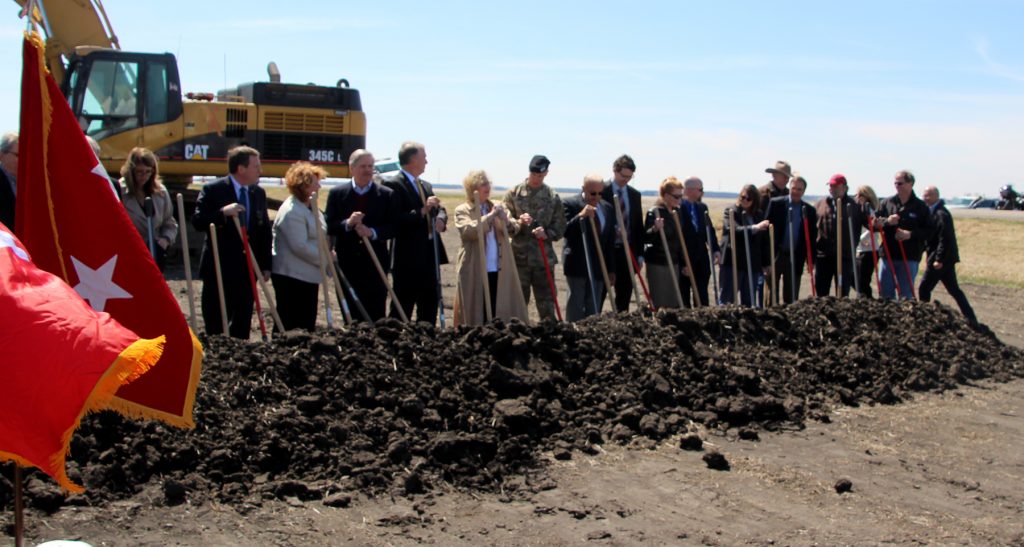 "The idea here is comprehensive flood protection for the region that recognizes that everybody is important. The thing that is so important is that we have to work together," Sen. John Hoeven said. "And for those folks who are impacted, we can work hard to make sure they are treated fairly and well, and we are committed to doing that."
"We know how devastating a flood can be but we also know that North Dakota is always stronger when we stand together. North Dakota is always stronger when we work together and that's a lesson that has to be learned and relearned every time we approach a project like this," Sen. Heidi Heitkamp said. "We are going to do everything that we can to make sure that not only do we get this project done for the future of the region but that we get this project done in a way that is fair to all of our neighbors in this region."
"You are gathered here making history in what has been described as a public private partnership," Major General Michael Wehr, Commander of the Mississippi Valley Division of the Corps said. "This project is in fact the first one ever to be done by the Corps. You are making that history.
Hoeven also recalled the flood fights of 1997 in Fargo and Grand Forks and the flood of 2011 in Minot. "They fought valiantly, but that's the problem with emergency measures. They are just that, emergency measures. Sometimes they work and sometimes they don't and when they don't lives are potentially lost, they are certainly put at risk, and homes and businesses and hundreds of millions of dollars are spent but you still can't get that home back. In this case we are talking about an area that has more than a quarter of a million people."
Construction on the Inlet will begin with site preparation and piling soil. Ames Construction Inc. out of Burnsville, MN was awarded the construction contract by the U.S. Army Corps of Engineers in December of last year.
The entire project includes a 30-mile long earthen channel and a 12-mile long southern embankment. The Project also includes 19 highway crossings, four railroad crossings, and two more gated control structures. The other structures will be on the Red River and the Wild Rice River. There will also be two aqueduct structures along the Maple River and the Sheyenne River.