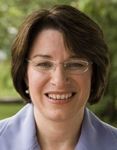 Washington, D.C.
U.S. Senator Amy Klobuchar made the following statement today after officials highlighted the signing of the Chief's Report for the Fargo-Moorhead Flood Diversion Project, a key step that will move the important project forward.
"This is a major step forward for this critical project. The Chief's Report shows the commitment of local leaders to craft permanent flood protection for residents and businesses in Fargo-Moorhead. I will continue to work to address the concerns of other communities upstream and work across state and party lines with our congressional delegations and state and local officials to get this project completed."
Klobuchar joined North Dakota U.S. Senators John Hoeven and Kent Conrad and U.S. Representative Rick Berg in supporting the project at the Civil Works Review Board meeting in September, along with state and local officials. Klobuchar also met with Major General Merdith W.B. (Bo) Temple, Acting Chief of Engineers and Acting Commanding General for the U.S. Army Corps of Engineers to stress the critical importance of permanent flood protection for the area. Klobuchar also worked with members of the Minnesota and North Dakota congressional delegations in requesting $30 million to be included in the President's Fiscal Year 2013 budget and has made the flood diversion project her top priority in the Water Resources Development Act.
Klobuchar Statement on Fargo-Moorhead Flood Diversion Project