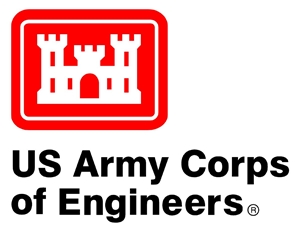 By Katie Young, U.S. Army Corps of Engineers
The Corps of Engineers, in cooperation with the Flood Diversion Board of Authority, hosted several events on the Flood Diversion Project on June 26-28 in Fargo, ND. The events provided the public and the construction community the opportunity to view plans and provide feedback to improve the design for the Outlet Structure and design Reach 1 of the Project.
An Open House on June 26 drew a crowd of approximately 100 people. Displays showing the design of the Outlet Structure and Reach 1 were available and the public had the opportunity to speak with Corps and Diversion Authority representatives about the status of the Project and ongoing design efforts.
The Industry Day event and Contracting Seminar had approximately 130 people and 72 firms attend one or both events. These events provided the construction community the opportunity to provide feedback on the designs thus far and ask questions of the Corps and Diversion Authority to gain a better understanding of the Project and how the government handles contracts and construction.
The events were very successful and feedback received during the Industry Day event will be used and incorporated into the upcoming Value Engineering study on the constructability of the Project. Value Engineering is a systematic approach to analyze the function of the project to increase the performance, reliability, quality, safety, durability, and effectiveness.
Similar Posts: