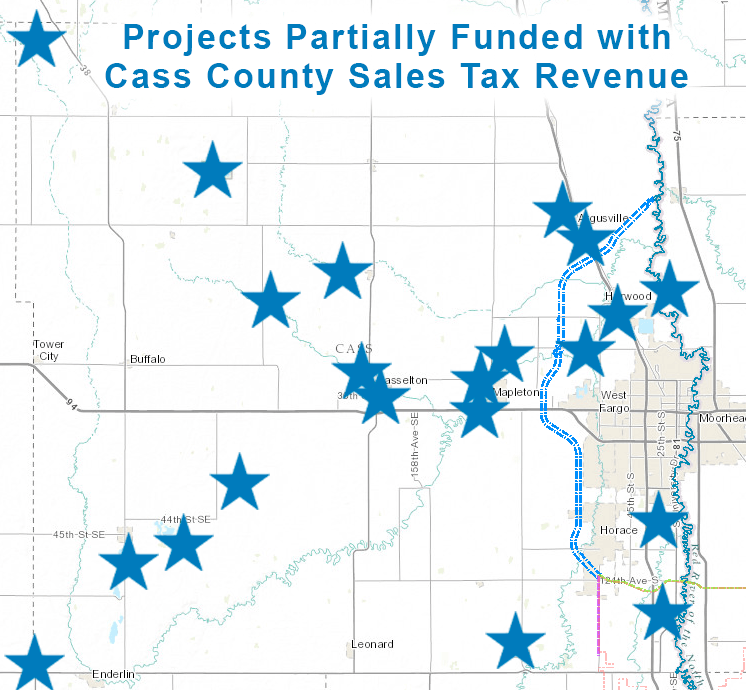 Since 2010 when Cass County voters approved a sales tax for flood protection, 28 projects across the County have received funding for flood protection to protect homes, farms, and an industrial park through the construction of dams, levees, detention, lift stations, and repairs to previously damaged infrastructure.
The sales tax started six years ago when county citizens voted to authorize the collection of ½ of a percent sales tax. The tax is authorized until March 31, 2031 and an extension is being proposed on the November 8 ballot. The money collected is used towards land purchases, engineering, construction, and maintenance of flood control projects.
While a majority of this income will be used for the FM Area Diversion Project, nine percent has been set aside for other Cass County flood control projects.
County Administrator Keith Berndt explained why nine percent was originally chosen, "When the project first started, we entered into a memorandum of understanding with the City of Fargo, where they had a half cent sales tax going toward the (Diversion) project and [Cass County] had a half cent sales tax [going towards the project]. The County-wide half cent sales tax generated about nine percent more…we'll match Fargo dollar for dollar and have equal shares into the project and then we will take that other nine percent and use it elsewhere."
In order for a project to use Cass County sales tax revenue, it has to meet certain criteria. It must be a flood control project and the local government must be willing to fund 50% of the project.
Potential projects are initially presented to a committee that decides on whether or not it should be funded. To date, the following projects have met these criteria and have been partially funded with Cass County sales tax revenue.
Projects that have been partially funded with Cass County Sales Tax Revenue
2013 Pontiac Township Project No. 73
The sloughs south of Alice, North Dakota were causing flooding due to high water levels. In order to fix this, the Pontiac Township Project No. 73 allowed for a drain to be installed after funding for the project was approved. The total cost was $3,051,624, of which $1,094,183 was paid for by the State Water Commission, $837,334 was the local share, and the Cass County sales tax covered the remaining $480,000.
2015 Maple River Watershed Flood Water Retention Study
The Maple River Watershed Flood Water Retention Study was composed of several smaller sub-studies, including the Upper Maple River Detention Study Phase II, the Rush River Detention Study Phase II, and the Swan Creek Detention Study Phase II. These studies were approved on March 11, 2015 and estimated to cost $400,000. Of that, the Cass County sales tax approved $242,500 toward this project.
2015 Reed Township Road Raise
The Reed Township Road Raise project included the raising of 19th Ave NW, a gravel road just outside of Harwood, several inches. This created a route for emergency vehicles during times of flooding. Construction began on April 8, 2015.
2016 Erie Dam Repairs
The Erie Dam, which created Brewer Lake, required maintenance on the stop log structure and valve stem. The stop log, which is a control element used in floodgates to regulate the water level or flow rate, and valve stem needed replacing to keep the dam in working order. The repair costs were estimated at $25,000 and were approved on May 2, 2016.
2014 Upper Maple River Dam
The Upper Maple River Dam located 15 miles northwest of Page, is a 5,000-foot earthen dam. The dry dam, meaning it only holds water during times of flooding, will hold up to 9,950 acre-feet of water and protect 22,365 acres of farmland. The entire project cost nine million dollars. Cass County sales tax paid for $706,000. Though the project had been in the works for 20 years, construction started in April 2015 and was completed late October 2015.
2015 Harwood Levee Improvements
In 2015, improvements to Harwood's flood protection were proposed. A permanent levee between 32nd Avenue and 40th Avenue, was proposed in addition to improving the storm sewer by combining two existing storm sewer lift stations and improving storm sewer collection. The projects were bid in March 2015 and construction began May 2015. The levee portion of this project is projected to be completed in September 2015, and the storm sewer being completed in November 2015. The total project cost was $1,113,870 with the County sales tax funds contributing $556,935.
2016 City of Mapleton Levee Recertification
A levee in the city of Mapleton was certified, but lost its certification after a change in the floodplain. On May 2, 2015, funding was approved to make improvements to the levee and be recertified. The total project cost was $2,000,000, of which $723,000 was funded by the State Water Commission. The local share was $734,000, and the Cass County sales tax paid $543,000 of that amount.
2014 Lake Bertha Flood Water Detention
Lake Bertha, located in Eldred Township, was causing flood damage to the area due to high water levels. To resolve this, a controlled outlet for the basin that would allow water to be managed for flood risk reduction was proposed. Additionally, the project would maximize the flood water storage available during food conditions. On April 13, 2016, the project was approved for cost-sharing a maximum $245,943.00. The Cass County sales tax approved $242,500 toward this project.
2015 Casselton Industrial Park Improvements
The Casselton Industrial Park is an 80-acre park located a mile south of Casselton. In order to minimize flooding, a detention pond was created to serve a small section of Industrial Boulevard. Over time, however, the detention pond began serving ¼ section of the land, plus held drainage from land west of town. During times of flooding, the lift station could not keep up and the pond would overflow, and flood Industrial Boulevard and adjacent properties. To fix this, a larger pump and another detention pond were required. The sales tax funds were approved for 50% of the project up to $1,310,000. The project was approved in March 2015 and bidding was awarded to Adelman Concrete and Excavating at $340,060, in addition to Moore Engineering's fees.
2016 Swan Buffalo Detention Dam
The Swan Buffalo Detention Dam is a dam on a tributary of the Buffalo River. It was constructed for flood protection purposes and initially completed in 1961, though it was modified in 1968. The Swan Buffalo Detention Dam is made of several dams, including Absaraka, Garseig, and Emden. These dams had deteriorated over time and required repairs as to not compromise the integrity and stability of the dam. The project engineer's estimate is $400,000, where $345,000 is eligible for state cost participation at 35 percent ($120,750) of the eligible costs, resulting in $41,539 towards repairs to Absaraka Dam, $47,158 towards the Garsteig Dam, and $45,193 towards the Embden Dam. This project was approved on November 20, 2015, H & S Contracting won the low bid on May 5, 2016, and the project was ongoing as of July 7, 2016.
All Cass County Projects as of Sept. 21, 2016
| | | | |
| --- | --- | --- | --- |
| Project | Total Approved | Paid | Left to Pay |
| Round Hill Project | $350,696.00 | $350,696.00 | $ – |
| City of Oxbow Diking | $ 105,284.29 | $ 105,284.29 | $ – |
| 2012 City of Argusville Diking | $ 168,925.00 | $ 168,925.00 | $ – |
| 2012 Maple-Steele WRD Study | $ 20,562.00 | $ 20,562.00 | $ – |
| 2012 City of Mapleton – Lift Station | $ 52,500.00 | $ 52,500.00 | $ – |
| 2013 Pontiac Township – Project No 73 | $ 448,000.00 | $ 448,000.00 | $ – |
| 2013 City of Argusville – Levee improvement | $ 23,874.73 | $ 23,874.73 | $ – |
| 2013 City of Casselton – Levee Repairs | $ 23,750.00 | $ 18,710.95 | $ 5,039.05 |
| 2013 Maple-Steele – Dam Project | $ 17,500.00 | – | $ 17,500.00 |
| City of Mapleton Levee Recertification | $ 543,324.58 | $ 514,648.68 | $ 28,675.90 |
| 2014 Pontiac township Project no 73 additional | $ 52,000.00 | $ 52,000.00 | $ – |
| 2014 Upper Maple River Dam | $ 706,000.00 | $ 706,000.00 | $ – |
| 2014 Lake Bertha Flood Water Detention (reduced from) | $ 66,215.45 | $ – | $ 66,215.45 |
| 2014 Detention project Development: | $ – | $ – | $ – |
| 2015 Normanna Township Slide Repair and Road Move | $ 40,500.00 | $ 40,500.00 | $- |
| 2015 Upper Maple River Detention Study Phase II | $ 45,500.00 | $- | $ 45,500.00 |
| 2015 Rush River Detention Study Phase II | $ 45,500.00 | $- | $ 45,500.00 |
| 2015 Swan Creek Detention Study Phase II | $ 45,500.00 | $- | $ 45,500.00 |
| 2015 Harwood Levee Improvements | $ 556,935.00 | $ 307,613.78 | $ 249,321.22 |
| 2015 Casselton Industrial Park Improvements | $ 242,500.00 | $- | $ 242,500.00 |
| 2015 Reed Township Road Raise | $ 60,308.18 | $ 60,308.18 | $- |
| 2016 City of Mapleton Levee Raise | $ 99,812.68 | $- | $ 99,812.68 |
| 2016 City of Mapleton Levee Recert change order | $14,867.00 | $- | $14,867.00 |
| 2016 Erie Dam Repairs | $ 25,000.00 | $- | $ 25,000.00 |
| 2016 Absaraka Dam Repairs | $ 11,183.50 | $- | $ 11,183.50 |
| 2016 Garsteig Dam Repairs | $ 12,696.51 | $- | $ 12,696.51 |
| 2016 Embden Dam Repairs | $ 12,167.40 | $- | $ 12,167.40 |
| 2016 Drain 77 Study Maple River Water Resource | $ 20,000.00 | $- | $ 20,000.00 |
| TOTAL | $ 3,811,102.32 | $2,869,623.61 | $941,478.71 |