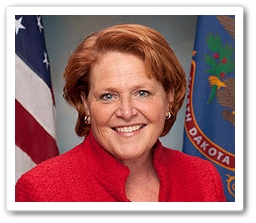 U.S. Senator Heidi Heitkamp issued the following press release Thursday:
U.S. Senator Heidi Heitkamp announced Thursday that the Fargo-Moorhead Area Diversion Project will receive more than 60 percent more in federal funding for Fiscal Year 2013 than originally allocated. The Diversion Project will now receive $7.4 million. The Fargo-Moorhead Metro Diversion Project was already allocated $5 million for Fiscal Year 2013, but that number was reduced to about $4.5 million as a result of across-the-board federal budget cuts.
Last week, after President Obama's Fiscal Year 2014 budget proposal included no funding for the diversion, Heitkamp continued her efforts to press top Administration officials to support the project.
"This additional funding is welcome news and provides momentum for us to continue our push to provide long-term flood protection," said Heitkamp. "Like most North Dakotans, I was disappointed when the President's budget included no funding for the diversion project. The morning the budget came out, I was on the phone with Administration officials to voice my displeasure and press them on the project's importance. As the city of Fargo and Cass County prepare for yet another flood, we are reminded how important it is to support long-term flood protection for the people of eastern North Dakota."
Administration Officials reached out to Heitkamp on Thursday to notify her of the additional funding. Heitkamp believes the more than 60 percent increase will send a strong message to state and local officials of the federal government's commitment to the project.
Similar Posts: