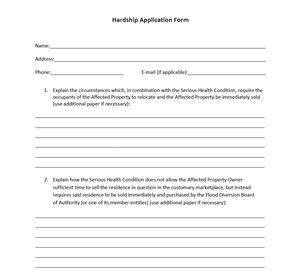 Information on the Flood Diversion Authority's new Hardship Policy, application forms, and forms for physicians to complete are now available for download.
A pdf version of the Hardship Policy, which contains the forms, may be downloaded from the Library section of fmdiversion.com.
The Hardship Policy is for the early buyout of residential property where it is determined that a property owner suffers from a serious health condition giving rise to a hardship. Applications are encouraged from property owners who feel circumstances warrant considerations.
Each Hardship Application must be completed and submitted with the Physician's Certificate form to:
Cass County Auditor's Office, P.O. Box 2806, Fargo, ND, 58108-2806
Similar Posts: