Numerous public leaders reconfirmed their commitment to building the FM Area Diversion Project this morning during a press conference at Fargo City Hall.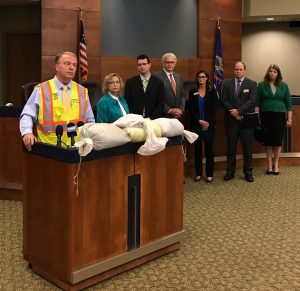 "Fargo and Moorhead need a permanent flood solution," Fargo Mayor Tim Mahoney said. "The reality is we have gotten over many hurdles with this project. It's now a federally-authorized project and we have a Joint Powers Agreement. We need a solution and this is not the time to put on the brakes."
"We need to work together on this," Moorhead Mayor Del Rae Williams said. "This is not a Minnesota thing. It's not a North Dakota thing. I love my state and I'm proud of my governor and what they have done, but there is a point where we need to work together on this."
Project Manager Aaron Snyder from the U.S. Army Corps of Engineers commented that the Corps is "going to continue moving forward with this project."
"Public safety is the Corps primary concern," Snyder said. "The utilization of emergency measures is not feasible for long term flood protection measures. An engineered solution is much more safe, much more resilient and much more beneficial to the communities of Fargo, Moorhead and the nation."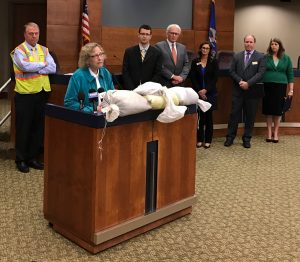 The Diversion Board of Authority met on Wednesday evening with legal counsel and was advised to wait until next week's regular meeting to decide if they will appeal the permit decision, according to Diversion Board of Authority Chair Darrell Vanyo.
During that meeting, Moorhead City Council member Nancy Otto pleaded with her state government to reconsider.
"In Fargo and Moorhead we are all one community. The majority of Moorhead residents are employed in Fargo. Your decision places Moorhead Minnesota lives, Minnesota homes, Minnesota jobs, Minnesota business at risk," Otto said. "Please reconsider your decision on behalf of Minnesota residents. You represent us."
The project will not be building in Minnesota until 2019, but there are many approaching deadlines, Mahoney said.
"Part of the issue is we have a time table we are trying to keep up with," he explained. "If you delay too long, it just adds cost. We are hoping to come to some kind of resolution with some of these things. We will keep striving to get along with our Minnesota partners."