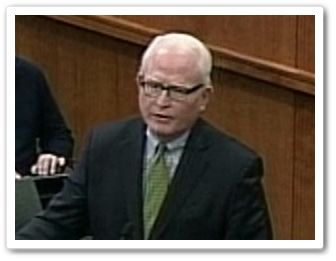 The F-M Area business community is enhancing its support of the F-M Area Diversion Project.
Craig Whitney, President and CEO of the Fargo Moorhead West Fargo Chamber, appeared before the Diversion Authority at its February meeting to let members know The Chamber is organizing a task force of business community members who feel they need the Diversion Project to protect their businesses, and the area's economy, from the damages of flooding.
The group of about 35 business leaders is moving rapidly to invite representatives from the Authority; the cities of Fargo, Moorhead and West Fargo; Cass and Clay counties; and the Corps of Engineers to bring them up to speed on the Diversion.
"We want to hear first-hand from the experts, and we want to be able to meet occasionally to offer the support of the business community," said Whitney. "We want to be a back-up voice to say, 'This is important. This is a huge issue facing the business community. It's an economic development issue. How do we retain the businesses that are here?'"
Dennis Walaker, Mayor of Fargo, welcomed the move."There needs to be a task force of the employers in this area that are contemplating moving forward with expansions that are on hold right now," Walaker said.
"We really want to be here to support your efforts and the efforts of our elected officials. We're excited about doing it. We think it's important," said Whitney.
The Chairman of the Diversion Authority, Darrell Vanyo, looks forward to more dialogue with business leaders. "This Diversion Authority board is not about creating flood protection for ourselves," he said. "It's for the people who live here and work here in the business community, so we really need to have those faces in front of the Legislature."
Video is available here of Craig Whitney's comments to the Diversion Authority.
Similar Posts: