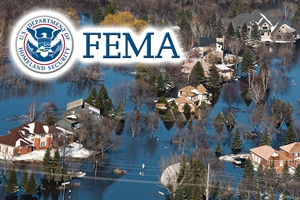 A year ago, Sen. Hoeven hosted the Federal Emergency Management Agency's (FEMA) Deputy Associate Administrator for Mitigation, Roy Wright. Wright came to town to meet with local officials to talk about FEMA's role in floodplain management and the current efforts underway to build flood protection.
Up to 20,000 homes will be prevented from being remapped into the 100-year (1% annual chance) floodplain by FEMA when the Diversion Project is constructed. Lately though, there have been increased questions about when or even if FEMA will remap.
FEMA administers the National Flood Insurance Program (NFIP) and provides authoritative flood hazard data and maps nationwide. Floodplains are constantly changing, a characteristic that makes managing a flood hazard mapping program a challenge. Periodic updates to NFIP flood hazard maps (known as Flood Insurance Rate Maps, or FIRMs) will always be needed because of physical environment, climate pattern, and engineering methodology changes.
When asked by Sen. Hoeven about potential remapping of Fargo and Moorhead, FEMA's Deputy Associate Administrator Wright responded firmly that, "under our normal sequence, Senator, we would be go back on a five years recurrence. If I am in a community that we come back five years down the road and they are still talking about a project, I am probably going to change the map then," said Wright.
The cities of Fargo and Moorhead are both local sponsors of the Diversion Project to protect the 19,400 homes in Fargo that are at risk of being placed into the floodplain. In addition, according to Dr. Bob Zimmerman, Moorhead City Engineer, 820 structures estimated to be valued at almost $400 Million are at risk of being remapped into the floodplain within Moorhead.
The U.S. Army Corps of Engineers, which has oversight over the FM Diversion Project, has been working closely with FEMA and both agencies have jointly adopted a FEMA/USACE Coordination Plan in April, 2015.
Part of the coordination between the federal agencies is to review and comment on the updated hydrology being utilized to design the Diversion Project.
"By statute, FEMA is required to re-evaluate all of the food hazards studies at least once every 5 years," said Ryan Pietramali, FEMA Region VIII Risk Analysis Branch Chief. "As part of the work that has been done by the U.S. Army Corps of Engineers on the federal flood protection project in Fargo-Moorhead, we have reviewed the available updated hydrology and have found it would meet FEMA mapping standards, leading me to believe that an increase in the 100-year floodplain would be included in the next FEMA Flood Insurance Rate Map Update when that occurs."
Looking back at the history of FEMA remapping in the area shows a clear pattern. Moorhead saw floodplain changes in 2012, 1987, 1979, and 1972.  The City of Fargo saw new Floodplain Insurance Studies from FEMA released in 2015, 2002, and 1995.
FEMA and USACE will continue to coordinate their efforts to manage the changing floodplain and protect the Fargo-Moorhead area. Upon completion of the Diversion Project, a Conditional Letter of Map Revision will be submitted to FEMA to take into account the protection offered by the Diversion Project when the floodplain is next remapped.
Click here for a copy of the USACE/FEMA Coordination Plan.