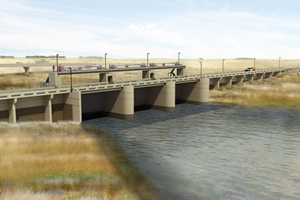 The final review of plans and specifications for the Diversion Project's inlet structure is already underway, with Corps-led construction scheduled to start in the fall.
The inlet structure southeast of Horace, ND is gated, and will control the amount of water that enters the diversion channel from the upstream staging area. Features include steel piling, mass concrete, three 50-foot wide tainter gates, a parabolic spillway, stilling basin, abutment walls, dam walls to tie the structure to the dam embankments, a vehicle service bridge across the top of the dam walls and across the structure, a mechanical platform, and a control building.
The diversion's inlet structure:
Allows greater control in keeping downstream impacts negligible
100/500-year flows = 20,000 cubic feet per second (cfs)
Each gate will weigh 87,000 pounds (Equal to a fully-loaded semi rig)
Located in NE corner of County Roads 17 and 16
"Moving forward, we're very optimistic about this project and our ability to secure future funding," said Col. Daniel C. Koprowski, commander of the Corps of Engineers, St. Paul district. "We expect plans and specs for that diversion inlet structure to be done by the spring of this year." The Corps is expected to award a construction contact in the fall.
The Corps has released updated, detailed artist renderings of the inlet structure. Those renderings were prepared by HMG and are available in the Maps and Renderings section for download here.
Minnesota EIS
The Diversion Authority and the Corps of Engineers continue to assist the Minnesota Department of Natural Resources (MnDNR) with preparing its Final Environmental Impact Statement, currently scheduled to be completed in May 2016. The Determination of Adequacy is scheduled for completion in July 2016.
Permitting Coordination with States
Coordination continues with North Dakota and Minnesota on phased permitting for features along the Southern Embankment. North Dakota entities will be the permitting authorities for the Diversion Inlet Structure and all other features located within North Dakota. Minnesota entities will be the permitting authority for features located within Minnesota. Both states will be involved in technical review of all dam features as detailed designs are developed.