Members of the Diversion Board of Authority traveled to Bismarck today to give new members of the State Water Commission an update about the project.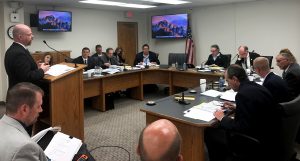 "Much has been done to improve our flood risk, but we need the FM Area Diversion Project," Fargo Mayor Tim Mahoney explained. "Without the Diversion, approximately 11,000 homes in Fargo are at risk of being in the FEMA 100-year-floodplain."
Mahoney outlined the progress that has been made on the project throughout the summer including:
Breaking ground on the first project structure, the Diversion Inlet and Control Structure.
Continued work on building flood protection in Oxbow
Near completion of the floodwalls and in-town levees
Releasing a Request for Proposal for interested firms competing to be the private partner in the project
Cass County Commissioner Chad Peterson updated the Commission on how the project is acquiring land and what needs to be done.
"The Project requires us to acquire property rights in some form for more than 1,800 parcels. Of that number, we only need to fully acquire about 1/3 of the parcels," Peterson said.  "To date, we have acquired 181 properties or easements and are working with property owners to continue the process."
"The people of Fargo and Cass County are excited about this project," Mahoney said. "This project will mean worrying about the next flood is a thing of the past."