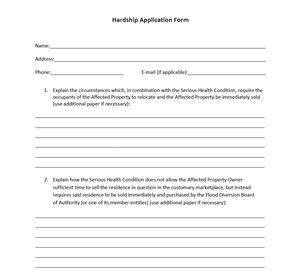 The Flood Diversion Authority adopted its initial Hardship Policy in April 2012 and is quickly moving forward with initial acquisitions. Three properties in Oxbow have been approved for early acquisition via the Hardship Policy, which focuses on residential property where the property owner suffers from a serious health condition giving rise to a hardship.
The Diversion Authority adopted the Hardship Policy before potential authorization and fund appropriation for the Diversion Project by the United States Congress. Nevertheless, property owners living in areas potentially impacted by the project assert the project is already impacting their ability to sell their properties at fair market values and to finance such sales. The Diversion Authority recognizes that while it is difficult to quantify the impacts resulting from the impending project on property values, or discern between project-related impacts and general economic conditions or other market forces, the Diversion Authority established the policy to allow property owners who establish a serious health condition hardship to have their homes eligible for early buyout.
As noted, the Diversion Authority, upon request and application of property owners, is proceeding with acquisition of three properties. The appraisal firm has been approved by the Corps Real Estate Division and begun contacting the property owners for access to conduct the appraisals. The goal of the Diversion Authority is to proceed as expeditiously as possible in relocating the property owners who have applied for the early buyout. It is anticipated that the early acquisitions will occur in the fall of this year.
While the appraisals and acquisition process is underway, the Diversion Authority is also developing a policy and agreement with Oxbow regarding the disposition of the properties after acquisition. The details of the disposition plan will be developed over the coming weeks with an overall goal of allowing the properties to be inhabited until they are needed for the project.
A pdf version of the Hardship Policy, which contains the forms, may be downloaded from the Library section of fmdiversion.com.
Similar Posts: