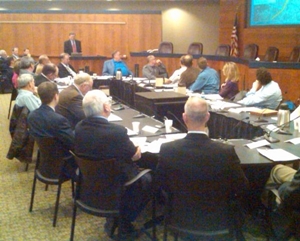 The Flood Diversion Board of Authority and other local sponsors of the proposed Fargo-Moorhead Flood Diversion Project are moving forward with additional studies that could lead to several design improvements and changes. The studies come in response to public input, and will research potential improvements that would not only lead to cost savings, but could bring some relief to communities upstream impacted by the project.
The studies follow the April 3rd signing of the Record of Decision (ROD) on the Project's Final Feasibility Report and Environmental Impact Study (FEIS). The ROD by the U.S. Army Corps of Engineers states that the Diversion Project is technically feasible and economically justified, in accordance with environmental statues. In signing the ROD, the Corps also approves the Project for construction pending Congressional Authorization, certifies the Project serves the public interest and outweighs adverse effects, and completes the National Environmental Policy Act (NEPA) process.
Moving forward, the Diversion Authority and local sponsors will conduct a preliminary Post-ROD Analysis, outside of the Corps of Engineers process, of these potential modifications to the project:
Move the Diversion inlet south of Oxbow.
Move the Diversion inlet north of the confluence of the Red and Wild Rice Rivers.
Evaluate staging and storage volume based on new or proposed upstream retention.
Protect the Oxbow/Hickson/Bakke area with levees/ring dike.
In addition to the current study of increasing flows through town, the following possibilities and goals will be studied jointly with the Corps of Engineers:
Move the Diversion inlet slightly north (Value Engineering Proposal 13).
Protect existing communities with levees (Comstock and Christine).
Conduct analysis while continuing design of the Project on schedule.
Continue to improve overall project value with goals to improve reliability, reduce impacts, and reduce costs.
Any potential Project changes will be evaluated individually and in combination with other potential changes. If analysis yields new information supporting changes from the feasibility study, the information will be provided to the Corps of Engineers for additional consideration. The Diversion Authority recognizes that changes to the project, minor or major, may require additional studies, Environmental Assessments (EA) or Supplemental Environmental Impact Statements (SEIS). Any changes to the Project that may affect congressional authorization of the Project will be avoided.
The Diversion Authority will keep the Corps of Engineers informed of all ongoing analysis. The Diversion Authority and project sponsors are 100% responsible for the additional analysis, and costs of the analysis that are outside the Corps process. If analysis indicates potential improvements are feasible, that information will be provided to the Corps for agency determination as the Corps is ultimately responsible for NEPA documentation.
If the Corps of Engineers determines any changes to be technically, environmentally and socially feasible, the necessary NEPA process will begin and the design will be revised on a parallel track with any remaining project design and construction.
The preliminary Post-ROD Analysis is expected to be completed by the fall of 2012.