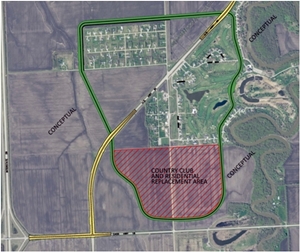 The Flood Diversion Authority is willing to fund construction of a ring dike that will protect the Oxbow area against severe flooding, if residents want it, before the Fargo-Moorhead Area Diversion Project receives authorization.
Authority members voted unanimously to authorize the ring dike funding at the Diversion Authority meeting on Thursday, December 13, 2012. The Corps and Diversion Authority are investigating the option of building a ring levee for the upstream communities as mitigation for the proposed staging area needed for the proposed diversion channel. The staging area would be used to store water when the diversion operates during times of severe flooding.
If residents decide they do not want the ring dike, property buyouts would likely follow federal timelines which do not anticipate buyouts before 2018.
The ring dike would generally be between 9 and 12 feet high, with some areas potentially being higher depending on determination of a final alignment. The ring dike would dramatically reduce the number of home buyouts needed to build the Diversion Project. The areas within the ring dike would have protection well in excess of the 100-year flood.
An upcoming meeting will focus on the specific properties impacted and seek local input on whether a ring levee is the preferred course of action. The meeting for landowners in the Oxbow, Bakke and Hickson area affected by the proposed diversion channel will be held on Tuesday, January 8, 2013, at Bennett Elementary School, located at 2500 58th Avenue South in Fargo. The meeting will begin at 6 p.m. with an open house, followed by a formal presentation at 6:30 p.m.
Landowners who live in or own land within the communities of Oxbow, Bakke and Hickson have been contacted about this meeting by letter.
Any questions about the meeting can be directed to Terry Williams, Corps of Engineers project manager, at 651-290-5517.
Similar Posts: