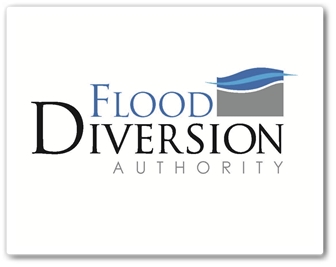 Members of the Flood Diversion Board of Authority attended the North Dakota Water Users Convention in Bismarck.  They updated a statewide audience of interested water users and members of the State Water Commission about the Diversion Project.
Rodger Olson, who is also the Diversion Project Public Outreach Committee Chair, spoke to water managers and representatives of joint water districts.  Olson also joined fellow Public Outreach Committee member Ken Pawluk in attending a booth set up to provide information on the Diversion Project.
"One gentleman started quizzing me on the Project," Olson said.  "He farmed around Devils Lake and lost about 5,000 acres to the lake.  He was not happy with the situation so he really quizzed me on the Project and asked me some good questions.
"We started talking about agriculture issues, flowage easements and insurance," Olson continued.  "He said he wished he had the opportunity to get a flowage easement and also be compensated by an insurance policy.  Then he told me, 'You guys are doing the right thing.  Fargo really does need the protection.  They don't need to do any more sandbagging.  They've done enough.'"
"We had some very interesting conversations at the booth," Pawluk said.  "There seemed to be a steady flow of people who were asking questions.  I especially appreciated Rodger's comments at the water manager's meeting, where he covered a lot of aspects of the project.  There were a lot of questions.  I didn't sense anything was adversarial."