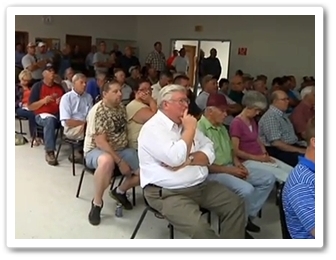 The Diversion Authority has been busy this summer engaging in multiple meetings with impacted landowners upstream of the Diversion Project. With a renewed vigor following the North Dakota Legislative Session to sit down and meet with those impacted, the Public Outreach arm of the Authority was in full swing in August.
The Diversion Authority took part in the MN Dak Upstream Coalition's meeting Aug. 12 in Christine, ND. Well over 100 individuals were able to ask unfiltered questions and get real answers about the Project, its impacts, and the protection it provides.
"We often hear this and that about what the Diversion Authority plans are, but often times these truths have been negatively misconstrued and do not reflect the work being done," said Darrell Vanyo, Chairman of the Flood Diversion Board of Authority. "It was nice to get the opportunity to speak directly with those impacted and also speak directly to the many people upstream who have zero impact from this Project, but are concerned that they might."
The Diversion Authority also held two meetings in Comstock, MN in August. On August 15, during a regularly scheduled City meeting, members of the Diversion Authority met with Comstock residents to share a draft conceptual plan for a ring levee. During Project operation for a 1% event, the City of Comstock may see two feet of water. The ring levee plan would protect from this impact. This was the start of a conversation between the City and the Diversion Authority and is important so that all the local concerns can be addressed during design of the levee.
Property owners in Minnesota impacted by the Project got a chance to meet with the Diversion Authority on August 20. More than 100 people attended the meeting. A short Project update was given along with additional information about policies taking shape that would determine the mitigation for impacts to property. Additional individual meetings were discussed and following feedback from the audience, it was determined that those meetings were best held over the winter months.
In addition to ring levees and the financial mitigation from flowage easements, much of the discussion was centered on how crop insurance would be impacted by Project operation. The Diversion Authority has an Agricultural Policy Subcommittee that has been meeting regularly in order to establish a policy that will allow farmers to continue to farm with the same protections their insurance provides them today.
"The Agricultural Committee is made up of area farmers, like me. Some are impacted from the Project and some are from surrounding areas," said Rodger Olson, Diversion Authority member and Chairman of the Agricultural Subcommittee. "We are farmers. We will make sure this remains a fair process and will make sure everyone gets treated respectfully."
Similar Posts: