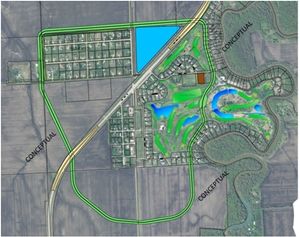 The Flood Diversion Authority has endorsed the inclusion of two features in the design of the Fargo-Moorhead Area Diversion Project.
Local engineering firms, engineering staff from local entities and the Corps of Engineers have developed preliminary designs for adjustable gates on the Diversion inlet channel. In addition, they've also drawn-up plans for increasing Red River flows through Fargo-Moorhead to 17,000 cfs (Fargo stage of 35 feet) by constructing and improving Red River levees. Diversion Authority members voted to endorse both features of the Diversion Project.
A gated control structure and allowing more flow through the cities would provide several benefits:
Reduce impacts to upstream areas, such as Richland and Wilkin Counties
Maintain downstream impacts as described in the Final Feasibility Report and Environmental Impact Statement
Reduce frequency of use of the Diversion from a chance of once every three to four years, to once every 10 years
Reduce impacts to farming (summer floods)
Minimize impacts to the environment
Reduce long-term project risk
Reduce long-term project operation and maintenance
Ring Dike Proposed to Protect Upstream Communities
Members also heard details of a proposal to build a ring dike up to 12-feet high to protect the communities of Oxbow, Hickson and Bakke from water that would be stored upstream of Fargo-Moorhead as part of the Diversion Project's operation. The ring dike would dramatically reduce the number of home buyouts needed to build the Project.
The proposed ring levee would be constructed and operated following the rigorous design, operation, inspection, and maintenance criteria established by the Corps of Engineers and FEMA. These are the same standards that will be used for the embankments associated with the Diversion Project and other ring levees in the Red River Valley.
Diversion Authority members are waiting to hear if residents of Oxbow, Hickson and Bakke are interested in pursuing the ring dike option.
Technical Options and Alignment Changes Under Consideration
Members are also considering several technical recommendations for changes to the southern Diversion alignment designed to save several million dollars in project costs, reduce upstream impacts and reduce risk of summer time project operation. A decision on the southern alignment is expected at the Diversion Authority's next meeting on November 8.
You can read more about the technical options in this article. The Final Technical Memorandum on the Post-Feasibility Southern Alignment is posted in the Technical Documents section.
The Diversion Authority is collecting public comment on the technical options. Anyone who wishes to comment may do so by talking with their elected officials, or leaving a comment here.
Similar Posts: