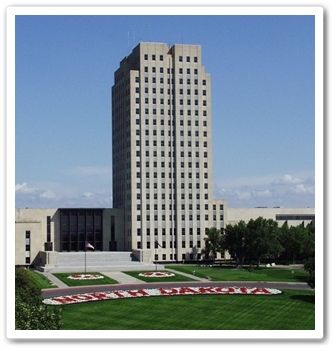 A North Dakota Senate subcommittee is considering a bill which would enact several restrictive amendments that Diversion Authority members say could kill the Fargo-Moorhead Area Diversion Project.
House Bill 1020 included approximately $100 million for flood protection efforts in Cass County. However, amendments offered by the House Majority Leader would prevent several years of state funding from being used for the Diversion. In addition, no ring levees would be funded. Also on the line are $45 million already approved in 2009, and $30 million approved in 2011.
"If the amendment that was added in the House prevails, the absolute soonest that we could finish with a dike of Oxbow, Hickson and Bakke would be five years from now because nothing could happen until we got to the end of the 2015 legislature, and they would have to re-authorize us to spend any money," said Ken Pawluk, Cass County Commissioner and Diversion Authority member. "The only way that could be reversed would be if a future legislature would say we can spend money on flood protection. If the issue on the table prevails, the very soonest we could start would be after July of 2015, which means it would be 2018 before they could have protection."
The Senate subcommittee can change the bill. Members who will be reviewing the bill and its amendments will need to slice through several pieces of misinformation, said Diversion Authority Chairman Darrell Vanyo.
"One view that's been out there is that if the money is channeled to one of Fargo's internal levees that somehow, magically, those dollars would equate to 42.5 feet of flood protection, which is really erroneous. I believe strongly that too many people believe that Fargo would be protected to 100-year event level with those dollars and that is not true. In fact, it would take quite a bit more money to have certified protection," Vanyo said.
"Early on, people may remember that the Corps of Engineers presented many times the fact that to have any type of levees to tie in, you almost end up with a ring dike," Vanyo continued. "It would be a 900-million dollar effort to do that, to just give you 50-year protection. The fact is that the dollars that would be spent for Fargo's protection would leave gaps of seven miles of other temporary levees that would need to put in, and three miles of sandbags in a major flood event, so it's a long way short of what people believe. In fact, some people believe Fargo is already at 42.5, and that certainly is wrong."
Another issue is the restriction of not being able to use public funds for the Diversion trumps the sales tax measures that were voted on in Fargo and Cass County. "It really stops the game plan that we had set forth to have a three-prong approach over the next two years, rather than concentrating all our efforts on levees in Fargo," Vanyo said.
Vanyo pointed out that legislators in the House were using figures from over two years ago in terms of the calculation of Federal funds, Minnesota funds and local and state funds to come up with the funding cap. "We've been touting 1.8 billion for two years, which equates to a 450-million dollar state share. So there's plenty wrong with the amendments, but the biggest thing is that any stopping of our efforts now will only add dollars to that 1.8 billion," he said.
Chairman Vanyo also said if the amendments are removed, the Fargo-Moorhead area would enjoy interim benefits for everything that is done over the next two years. The work that would transpire ahead of Federal funding would deliver pockets of flood protection to individual areas. "If there is a new game plan that has to be formulated at that time that doesn't include Federal dollars, the state will not be out any more dollars than they would be if the project was completed," he said. "We would just have less of a project than we intended."
Finally, Vanyo countered the idea that Federal dollars should be contributed to the Diversion Project first before State dollars are allocated. "We have heard directly several times from the Corps of Engineers that when it comes down to being shovel ready, and having your finances lined up, a promise may be overlooked, and your project may go by the wayside."
Legislators are still accepting input. To find contact information for Senate Members, click here.
Similar Posts: