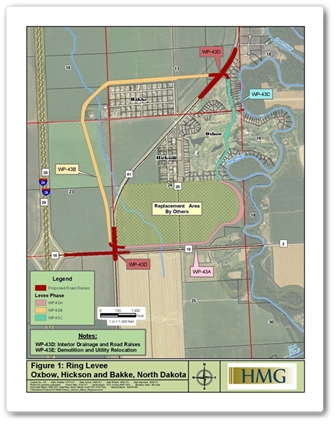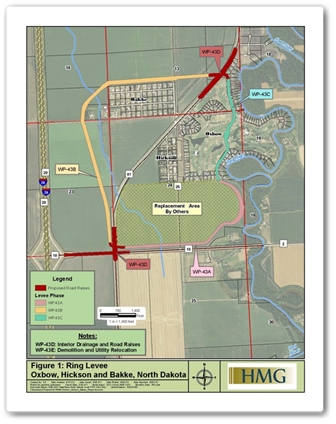 The Diversion Authority and City of Oxbow, ND have approved a finalized Memorandum of Understanding (MOU), which outlines each organization's roles and responsibilities regarding the construction of a ring levee for Oxbow.
Under the MOU, homes in the Oxbow area would remain within the Diversion Project's Staging Area, but would be protected from flooding to a 500-year level. The proposed ring dike will also include a number of lots for other residences impacted in the Staging Area to offer a relocation option as part of mitigation.
The MOU provides a clear outline of what the Diversion Authority will do to take care of those impacted. Among the clarifications added to the final MOU:
An explanation of the way the Diversion Authority will advance funds. "The Diversion Authority is advancing project funds for these project purposes, including buying this replacement land," said Erik Johnson, attorney. "We're handing it to the City of Oxbow so they can develop and plat the land, sell the replacement lots, and then when the money comes back to the City of Oxbow, they'll recoup and repay the money to the Diversion Authority."
A clarification for the Oxbow Country Club which explains how the new portions of the course and clubhouse compared to the old construction. "They want to be able to design something that is somewhat equivalent," said Johnson.
A clarification of the relationship between the Diversion Authority and the Country Club. "The Oxbow Country Club is sort of like all the other 40 homeowners," Johnson said. "The Diversion Authority will have to acquire those homes for the levee project. The clubhouse will need to be acquired to make way for the levee, and so the Diversion Authority will deal directly with the Country Club relative to acquiring their land."
A clarification that explains the interruption to golf club operations will be minimalized by constructing the levee in three stages.
The agreement is contingent on the Corps' approval of the Oxbow/Hickson/Bakke levee in the pending Environmental Assessment (EA), and the execution of a construction Memorandum of Understanding with the Corps to build the levee before authorization of the Diversion Project.
The estimated cost for the Oxbow/Hickson/Bakke ring levee is $65 million. All Diversion Authority costs are within the proposed budget for the project.
Oxbow is the only North Dakota city located in the Staging Area. The Diversion Authority has recommended building the ring dike around Oxbow and the unincorporated communities of Hickson and Bakke.
Similar Posts: