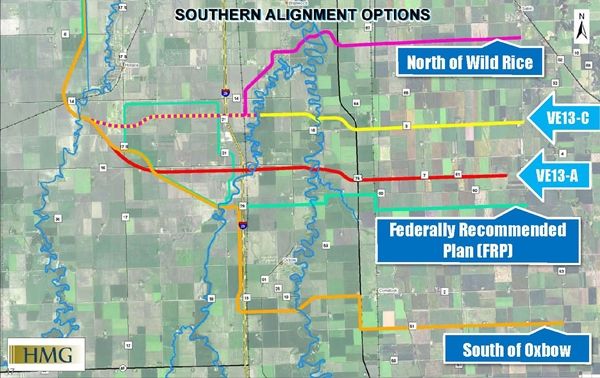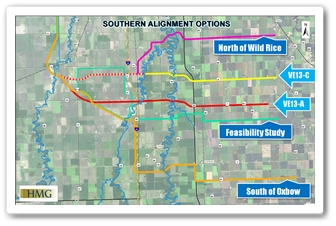 Recently, an alternate plan was released by the Richland Wilkin JPA that proposes to construct a southern alignment that runs north of the confluence of the Wild Rice River and the Red River. This is similar to an alignment that was fully studied as part of the process followed by the U.S. Army Corps of Engineers to improve the F-M Area Diversion Project by reducing risk, impacts to people, and the environment.
The Corps documented the findings in the Post Feasibility Southern Alignment Analysis (PFSAA) document and the Supplemental Environmental Assessment which can be on fmdiversion.com. The Corps study included a thorough technical analysis and review to reach the documented conclusions.
When compared to the current alignment, the study clearly shows that the JPA's alternate plan, which is similar to the North of the Wild Rice River (NWRR) alignment, would actually increase the impacts to people by affecting 197 additional residential structures and increasing the cost of the Diversion Project by $53 million. The alternate plan would also impact several additional businesses located along I-29.
In addition, the alternate plan would not eliminate the need for a levee at Oxbow-Hickson-Bakke. The current levee system is not certifiable under FEMA flood insurance rules today or with the alternate plan in place. In either situation, a levee would be necessary for Oxbow-Hickson-Bakke.
It is also important to clarify statements being made concerning the communities of Wolverton, MN and Christine, ND. The Project does not require ring levees for these communities.
In conclusion, the alternate plan that was released did not identify any new information that would change or modify the study that was released in October 2012 nor any of the work that has been done since. The alternate plan simply proposes to shift impacts onto others, would impact additional homes, and increase costs. Ultimately, it is for these reasons that the current alignment was chosen as it reduces impacts on homes and people.