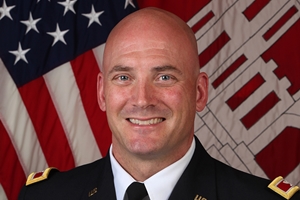 The Diversion Project continues to receive good report cards from the U.S. Army Corps of Engineers. According to Col. Daniel C. Koprowski, commander of the Corps of Engineers, St. Paul District, the Corps has been very impressed by the teamwork and collaboration between the sponsors and the Corps.
"That is a large reason, I think, that this project is now one of the Corps' demonstration projects. And what that means is that there is momentum behind it at the Corps," said Col. Koprowsi, speaking at the December 17 meeting of the Diversion Authority.
"We're going to continue to collaborate and work on solutions," continued Col. Koprowsi. "If the project is in the budget for fiscal 2017, as soon as funding is available, we can go to construction."
"I couldn't agree with you more with regard to the working relationship that the Corps has had with the Diversion Authority. It's truly been a good one," said Darrell Vanyo, Diversion Authority Chairman. "It's been consistent in terms of the working relationship and how we've progressed through a lot of hurdles and obstacles."
Koprowski also said the Corps is impressed with progress on the Diversion Project's Public Private Partnership (P3) project delivery model which will deliver the Diversion in a shorter amount of time than previously expected, and with cost certainty.