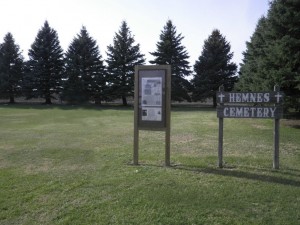 The U.S. Army Corps of Engineers has released a draft Cemetery Mitigation Plan, including attachments and appendices, for cemeteries impacted by the FM Area Diversion Project's Staging Area.
The Federal mitigation plan consists of requiring the non-federal project sponsors to obtain flowage easements for the cemeteries within the Staging Area, as is required for other properties in the Staging Area for operation of the Project. Normal cemetery operations including burials and operation and maintenance activities will not be restricted by the flowage easement. No Federal mitigation is required for cemeteries located outside the Staging Area.
The Diversion Authority is considering additional mitigation, which would come at an additional cost, and has plans to form a subcommittee to look into the issue once the Minnesota DNR's EIS is complete.
In addition to obtaining flowage easements, the Diversion Authority, as part of the Project Operation and Maintenance (O&M) Plan, can clean-up or offer assistance to clean-up the Staging Area (cemeteries, roads, ditches, fields, etc.) after operation of the Project. The details for this work have yet to be established.
Options for clean-up of the Staging Area include:
Non-federal sponsors or their contractors conducting clean-up operations on public and private land (where rights of entry have been granted);
Private landowners (including cemeteries) cleaning-up debris on their property and stockpiling it on public rights of way for non-federal sponsors or their contractors to collect and dispose, or;
Reimbursement of clean-up costs by private land owners by the non-federal sponsors
The draft Mitigation Plan was sent to representatives of the 11 potentially impacted cemeteries and the North Dakota and Minnesota State Historic Preservation Offices in early June. The Corps is requesting comments by July 13. The Corp's contact information is provided in the cover letter.
The draft Mitigation Plan is posted in the Library section and at this direct link.