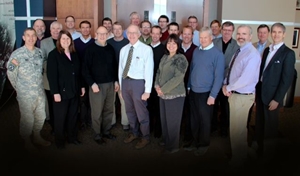 The U.S. Army Corps of Engineers and the Flood Diversion Authority program team has laid the foundation for a high-performance and integrated partnership to deliver the flood diversion project. The process known as "chartering" is designed to help teams working on important, complex projects to work effectively to achieve exceptional results.
"We set three simple but important objectives for today to: clarify expectations, define end results, and state our commitment to each other," said Dan Speicher, the facilitator for the chartering. "These are attributes of effective teams and will help the team deliver a reliable flood risk reduction project quickly and efficiently."
The session resulted in a charter document that highlighted common goals, outcomes and commitment to developing and completing the diversion project. The document was signed by all 27 participants in the meeting.
"I believe we can achieve long-term flood risk reduction with a project that will be heralded as a new standard in quality, cost, partnership and stakeholder acceptance. Chartering is an essential step toward this goal," said U.S. Army Colonel Michael J. Price.
Chartering is defined as the process that guides a team through defining its purpose, scope, goals, and responsibility. The results are clarity of purpose essential for high quality performance and an integrated team, with an agreement of how they will work together in a committed partnership.
The Team Charter is available for download here: Team Charter