Printable OHB Construction Update
2017_0509_OxbowCONSTRUCTIONInformation_Draft4 >
Construction Underway on Oxbow-Hickson-Bakke Levee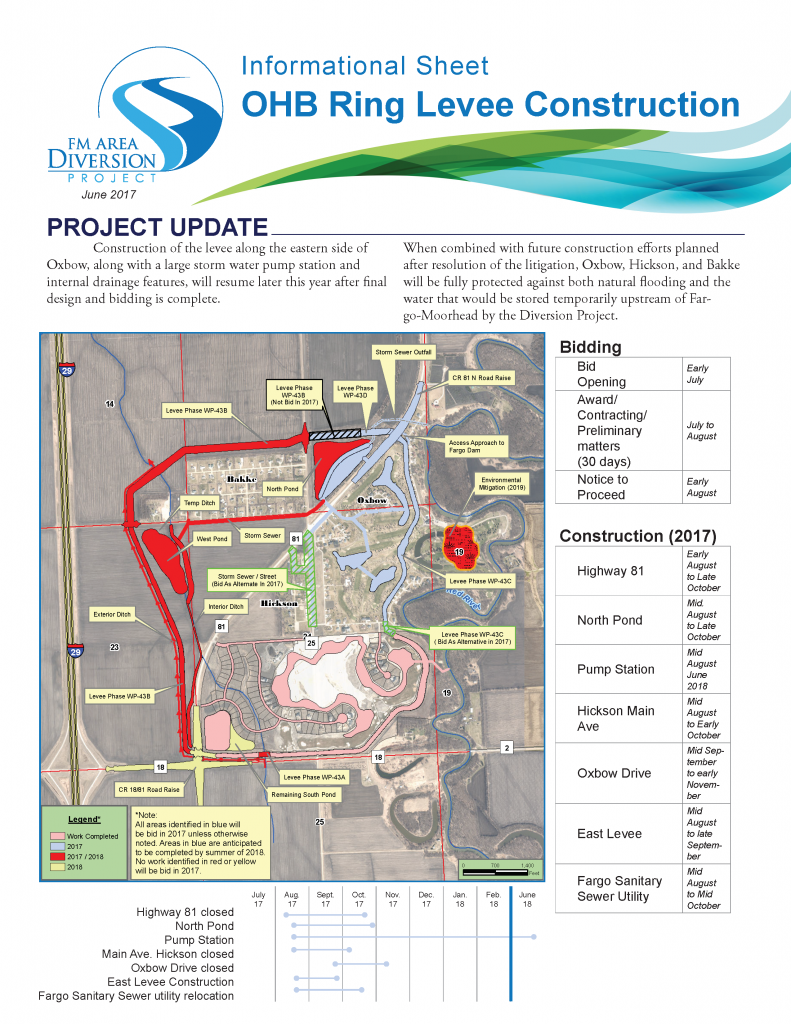 Construction is underway on the Oxbow-Hickson-Bakke (OHB) Levee project, which will independently provide approximately 200 residences in North Dakota with permanent flood protection. The levee will protect the communities from water that would be stored upstream of Fargo-Moorhead by the Diversion Project.
The North DakotaState Water Commission issued a permit for the construction of the levee on June 19, 2014, and the U.S. Army Corps of Engineers issued a similar permit on June 20, 2014. The contractor received the construction notice to proceed on June 23, 2014, and began constructing the OHB Levee on that date.
The project is being fully funded through funds appropriated by the North Dakota legislature and through local sales tax revenue in Cass County and Fargo. No Minnesota entity, including any Minnesota member of the Diversion Authority, will provide funding for the ring dike.
The OHB Levee project has no impact on the river levels in Minnesota, though the project is included as a mitigation feature of the Diversion Project in the Minnesota Department of Natural Resources' (MDNR's) Environental Impact Study (EIS). The study is expected to be completed sometime in 2015. The DNR needs to complete the EIS in order to identify any environmental effects that should be addressed by the Diversion Project.
Click here for Oxbow-Hickson-Bakkee Levee FAQ
Click on the map to view the full version, or click here.