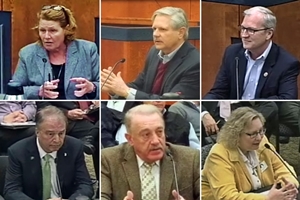 Members and staff of the North Dakota and Minnesota Congressional delegations are working with the Diversion Authority on the next steps that need to be taken to secure permanent flood protection for Fargo and Moorhead in the form of the FM Area Diversion Project.
Senators John Hoeven and Heidi Heitkamp, and Representative Kevin Cramer of North Dakota; along with staff for Minnesota Senator Amy Klobuchar's office; took part in a roundtable with members of the Diversion Authority and other local leaders on December 22. Video of the meeting is available here.
As a member of the Senate Appropriations Committee, Hoeven wrote and secured language in a federal omnibus funding bill passed in December authorizing and funding new construction activity that will help to advance flood protection in the Red River Valley. The legislation includes nearly $690 million more than the Army Corps of Engineer's proposed budget for construction and directs the Corps to utilize projects organized as public-private partnerships (P3), like the Diversion Project. A coordinated P3 Split Delivery plan is in place for the Diversion Project, and ready to execute.
All four Senators from North Dakota and Minnesota, and the two local Congressmen, voted in favor of the bill.
"Securing authorization and funding for the Army Corps to start new construction projects is a vital milestone in advancing Fargo's flood protection project," Hoeven said. "We worked through the Appropriations Committee, specifically the subcommittee on Energy and Water, to authorize and fund these new projects starts, which will enable this project to move to construction. Now, we need to continue our momentum by working not only with the Corps and federal officials, but also with all local groups from both sides of the river to address communities' flood concerns throughout the valley and move this permanent flood protection project forward."
"What happened with this omnibus bill was not a small matter," said Cramer. "It was one of those times when the window opened and we had to jump through."
"A tremendous thank you is in order for all of our Congressional delegation," said Darrell Vanyo, Chairman of the Diversion Authority. "Now, we need to push to get the dollars. It's not over. We know that."
Continued Support is Needed
The Diversion Authority has worked hand in hand with the Corps since 2008 to develop the Diversion Project, which has been identified by several studies as the only project that can protect the Fargo-Moorhead area from the kind of major flooding experts say is possible in the future. However, Heitkamp said pressure needs to be kept on the Corps of Engineers and the Office of Management and Budget for a new start dedication.
"We hope that Fargo's in line, but I think we need to make clear that there's going to be competition even for that new start in a public-private partnership, although we think we're in the best position, shovel-ready to make that happen," said Heitkamp. "We've got some huge heavy lifting to do whether it's at OMB, or it's at the Corps."
Flood Insurance Concerns
Another reason for urgency to move the Diversion Project forward comes from the financial burden that thousands of homeowners will have to face in a few years, unless the Diversion is built. The Federal Emergency Management Agency (FEMA) has plans to come back to the region in five years and start remapping the 100-year floodplain. FEMA's latest remapping plans could put almost 20,000 residents into the floodplain, requiring costly flood insurance mandates.
The Diversion Project is the only project which is capable of negating the predicted sharp rise in flood insurance premiums.
"The commissioners and I are getting many comments from people whose flood insurance has tripled or gone up a tremendous amount," said Tim Mahoney, Mayor of Fargo. "It could be 20,000 homes that are affected, so for us it's critical that in the next five years, we get moving on this project."
Approximately 820 properties in Moorhead could be added to FEMA's proposed future flood plain, which would subject each of those property owners to mandatory flood insurance requirements. The protection offered by the Diversion Project would save those 820 properties from inclusion in the floodplain. "A large flood in Fargo impacts us greatly. We are one community. What happens to Fargo happens to us," said Del Rae Williams, Mayor of Moorhead. "So it is important to Moorhead to have community-wide flood work done. It makes all of us safe."
Ready for Construction
The Diversion Project is ready for construction, and will be able to immediately put a new start and 2016 funds to use. Fargo and Moorhead have already begun working on terms for a Project Partnership Agreement. Federal appropriations language requires a final PPA to be executed by August, which means locally, a PPA will have to be completed in April. The Diversion Authority is ready and able to make the August PPA deadline as detailed in legislation.