Local officials met with U.S. Army Corps of Engineers Lt. General Todd Semonite, Commanding General and Chief of Engineers this week. Lt. Gen. Semonite arrived in the area on Tuesday morning and spoke with Fargo Mayor Dr. Tim Mahoney, Moorhead Mayor Del Rae Williams, North Dakota Sen. John Hoeven and Minnesota Rep. Collin Peterson.  He also met with multiple members of the Flood Diversion Board of Authority.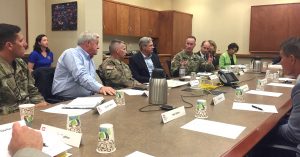 "We are very happy to have such a strong partnership with the Corps on this project," Mayor Tim Mahoney said.  "Lt. General Semonite's visit just reinforces what we have known from the beginning of this process. Protecting the health and economy of the FM area is, and continues to be, very important to the Corps."
Lt. Gen. Semonite toured multiple ongoing projects in the metro area and participated in a tree planting event. His visit comes weeks before the Corps plans to start construction on the project south of Horace in September.
"My whole point today was to be on the ground, listen to elected officials, listen to the stakeholders, listen to the engineers," Semonite said. "This is a very very complicated complex problem. It's almost impossible to find a way that you can get everybody exactly what everyone needs so the question is how do we somehow find the solution that can fit everyone the best it can."
"This is going to one of the most important projects of the Corps of Engineers in the next several years," he said. "I think what you are doing here in this region could be something that people around the United States or people around the world can figure out how can you do flood risk management in a better way."
Lt. Gen. Semonite assumed his position as the Army Corps chief on May 19, 2016, succeeding Lt. Gen. Thomas Bostick.