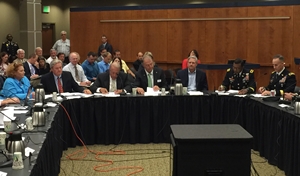 Several federal, state and local officials updated the Commanding General of the U.S. Army Corps of Engineers on the need for flood protection, progress made so far on the FM Area Diversion Project, as well as the Diversion Authority's ambitions to complete work on the project as soon as is feasible.
The Flood Diversion Board of Authority held a special meeting on Wednesday, September 2nd to discuss project activities with Lt. General Thomas Bostick. North Dakota Governor Jack Dalrymple, U.S. Senators John Hoeven and Heidi Heitkamp of North Dakota, and Representative Collin Peterson of Minnesota provided statements and comments about the Diversion.
The discussion with Lt. Gen. Bostick occurred during the same meeting in which Diversion Authority members approved a Public Private Partnership (P3) project delivery model which will deliver the Diversion in a shorter amount of time than previously expected, and with cost certainty.
"I am absolutely committed to staying behind this and to work this with you," said Lt. Gen. Bostick. "We are passionate about it. We know we have to make it work on our end, so we're looking at a small set of projects, maybe five or so, and I would say this one is further ahead than any I've seen in terms of the partners that have all come together."
"You Can't Wait"
Construction of the Diversion Project was authorized by the US Congress as part of the Water Resources Reform and Development Act of 2014. Lt. Gen. Bostick said USACE recognizes that advancing the completion of the Project as soon as practicable is critical to reducing flood risk for the Fargo-Moorhead metropolitan area.
"We can't wait. The nation can't wait. You can't wait," said Lt. Gen. Bostick. "So finding a way to think creatively about funding these projects is very important. For the Corps, we've hired people who wake up every day and their number one mission is to think about Public Private Partnerships and to move them forward."
"I believe that Fargo and Moorhead are still extremely vulnerable to a major flood event, and I think we have to keep focused on that fact," said Gov. Dalrymple. "I've told people that I helped my friends fight the floods in '97, again in 2011, again in '13, and as far as I'm concerned from my personal experience, Fargo and Moorhead have been lucky. Lucky is the only reason that they have not seen water in their communities. Those of us who know that have no choice but to keep working."
A National Model
Lt. Gen. Bostick referred to a meeting at the White House in August with Jo-Ellen Darcy, the Assistant Secretary of the Army (Civil Works). "We were talking about the authorization of projects, and one of the projects I brought up for discussion was Fargo-Moorhead because P3 is something we must do," he said. "The good news is Congress has directed that we do this, so we have the authority to move out."
"This P3 project is important not only for the Red River Valley, but really as a new national model to do major construction projects more cost effectively and better than the way we're doing them now," said Sen. Hoeven.
"We need, nationally, to find a different model," said Sen. Heitkamp. "We think Fargo has basically laid the ground work. Fargo has done everything right, the Diversion Authority, the groups here, to basically convince folks that we're the appropriate project for a Public Private Partnership."
Advancing the Project
"We have authorization and we have appropriation, but we've got to work to make sure that the project, as configured here, has the necessary DNR permits, that we work with upstream interests and address their concerns and gotten everybody together so we can advance. That is going to be very important," said Sen. Hoeven. "All along, we've said we want this to be a comprehensive approach."
"We understand Fargo needs flood protection, and we want to help," said Rep. Peterson. "40% of my people work in Fargo, in this area. But I think it's very important that somehow or another, we deal with these issues."
"I agree with Congressman Peterson that all points of view have to be taken into consideration in any major water project. That's the way it always is, and I think that can be done," said Gov. Dalrymple. "The state of North Dakota has been committed to this for a long time."
Major Commitment
"It's not going to be easy. We're going to have to work it pretty hard. But I think having the solidarity at this level really makes it a lot easier for us at the federal level because you have teed this up in such a way that everything is pretty much set," said Lt. Gen. Bostick.
"This is a community and a state that knows how to get things done, but we can't do this alone. We need the consistency and need the help of the Corps of Engineers and the federal government, and we're committed to doing that," said Sen. Heitkamp.
"I want to thank the Diversion Authority and others here for their commitment to resolve the issues that I hear from my constituents a lot," said Rep. Peterson. "I think it's going to be comforting to hear the words that we're going to work that out and figure out a way to come together."
"A lot of times, we ask, 'How much is it going to cost?', and we talk about benefit/cost, but in my mind, this is really an investment. This is an investment in our people. It's an investment in public safety. We ought to think about it in that way because we're investing in our future, and I'm committed to doing this," said Lt. Gen. Bostick.