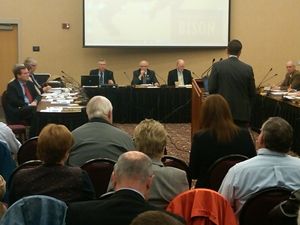 (Note: complete PowerPoint presentations of the information summarized below are available for download in the Technical Documents section by clicking here.)
Prominent members of the Fargo-Moorhead business community say permanent flood protection, at the highest level, is crucial to the survival of the area's economy.
Executives from Microsoft, Sanford Health and Blue Cross Blue Shield appeared before the North Dakota Legislature's Water-Related Topics Overview Committee in Fargo on April 19. Their testimony, and the testimony of several other water industry experts, helped paint a picture of how important permanent flood risk reduction is to the metro and how harmful serious flooding could be to the region's economy.
Paul Von Ebers, Blue Cross Blue Shield President and CEO, said it is essential that BCBS pay out Medicare and Medicaid claims nationwide on time. "We have potential contracts that could literally produce hundreds of new jobs," according to Von Evers. If BCBS in Fargo were forced to shut down because of flooding, it could hurt many patients and health care facilities across the state. "It is extremely important to us to be able to say, 'Yes, we have flood-protected facilities,'" said Von Evers.
Don Morton, Site Leader at Microsoft in Fargo, pointed out the Fargo campus performs many important tasks for the corporation, including payroll for Microsoft's 52,000 employees in the Americas. More flood fights could hinder the corporation's growth in Fargo.
Dennis Millirons, Sanford Health President and CEO, highlighted the fact that any severe flooding that could potentially overtake Fargo would force the health care provider to shut down, possibly for months. In that event, many patients would have to seek-out health care elsewhere, and there is simply not enough capacity in the region to facilitate all of Sanford's patients. "In 2009, because of the flood, Sanford had to be evacuated. The cost of the evacuation was $4.5 million," said Millirons. A larger flood, according to Millirons, would once again cause damage and "necessitate the transfer of patients and equipment; but in that case, it might cost tens of millions of dollars to fix." In addition, critical infrastructure could take months to repair or replace if damaged by flooding.
Events in the last few decades show a pattern of flooding at increasingly large levels. Gregg Thielman of Houston Engineering showed members of the Water-Related Topics Overview Committee a graphic illustrating a greater number and higher severity of major floods on the Red River in recent years that have led to a wider fluctuation in flood frequency. The results indicate a regional transition from a dry cycle to a wet cycle. As seen in the graphic, the blue bars representing maximum river flow rates tend to be larger and more frequent as time goes on. "The end date for the wet cycle is unknown," Thielman said.
Supporters of the plan to protect the F-M area from larger floods, The Fargo Moorhead Metro Area Diversion Project, explained why the diversion is a necessary component of a multi-prong effort to provide adequate protection.
Lance Yohe, Executive Director of the Red River Basin Commission, told members of the Water-Related Topics Overview Committee that floods larger than those experienced to date can be expected to occur. "The major urban centers and communities will continue in their present locations," Yohe said. "The major metropolitan areas will continue to grow. Future development will occur in compliance with floodplain management regulations."
Yohe and his group are pushing for basin-wide solutions.  "Progress towards the proposed $1.77 billion Diversion Project should be continued utilizing local, state and federal funds so that, combined with current flood protection strategies, this community will have the capacity within 10 years to wage a successful flood fight equal to or greater than a 500-year flood," Yohe said.
"Retention is an important complement to the Diversion Project," testified Darrell Vanyo, Chairman of the Flood Diversion Board of Authority, and Yohe agreed.  Retention to achieve potential 20 percent flow reduction on the main stem of the Red River "should be aggressively pursued upstream of Fargo-Moorhead to decrease the duration, scope, and level of floods in the Fargo-Moorhead area, downstream communities, and rural areas," Yohe said.
Retention would benefit not only the F-M Metro area, but other places, as well.  "Wild Rice Retention modeling shows strong potential for local benefits within Richland County," said Chad Engels, Moore Engineering.
So far, exhaustive emergency measures have been key to preventing flood waters from overtaking Fargo-Moorhead.  However, if the diversion were not built, and if emergency levies were to fail during larger floods, the results would be catastrophic.  "We're looking at $10 billion estimated damages from a 500-year flood," said Brett Coleman, Project Engineer with the Corps of Engineers.  "Without the diversion, the metro area would continue to be subject to flooding and have to rely on emergency responses."
The collective testimony for the Water-Related Topics Overview Committee outlined why building and financing a diversion now is an investment in the region's future.  A sophisticated funding and financing model has been developed for the project and was presented to the legislative committee.  "The initial funding scenarios demonstrate the Diversion Project is locally affordable, if a bank or other short-term loan is used during construction," said Martin Nicholson, Senior Vice President of CH2M Hill, the Diversion Project's Program Management Consultant.  "Long term financing could be secured through bonds or bank loans.  A special assessment district could be levied on benefitting properties, or the current sales tax could be continued in the future.  Either way, we'll be aggressively managing the construction cost and schedule," said Nicholson.
The Fargo Moorhead Metro Area Diversion Project has been forwarded to Congress for Congressional authorization for construction.  "This project is recognized by federal leaders as a highly-needed flood risk reduction project with regional and national benefits," said Tom Waters, CH2M Hill, Program Manager.  "It is the second-highest funded project for design in the President's FY-13 budget."
Moving forward, in an effort to provide the best project possible, the Diversion Authority and other local sponsors will conduct evaluations of potential modifications to the project, some of which are outside of the Corps of Engineers process.  These studies include:
Increased flows through Fargo-Moorhead.
Moving inlet slightly north.
Evaluating levees and dikes for affected communities.
Improving overall project value with goals to improve reliability, reduce impacts, and reduce costs.
"Increasing the flows through town would reduce the number of times we'd need to operate the diversion channel, and reduce the duration of holding water in the Staging and Storage Area," said Waters.
The earliest construction could begin on the Diversion Project would be the spring or summer of 2013, with the goal of making the project operable by the Spring of 2021.