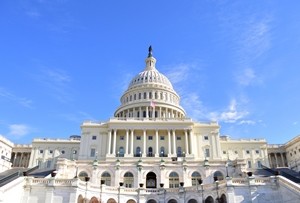 Senator John Hoeven expects that a year-end omnibus funding bill for Fiscal Year 2016 will be passed by Congress later this week, and the bill will help communities in North Dakota build permanent flood protection projects with an emphasis on public private partnerships (also known as P3 or PPP projects) like the FM Area Diversion Project.
The bill includes funding for the Army Corps of Engineer's proposed budget for construction, and authorizes new studies and construction activity that will help to advance flood protection projects in the Fargo-Moorhead area.
Hoeven worked on the Appropriations Committee to include language in the FY 2016 Energy and Water funding bill, which has now been included in the year-end legislation.  The bill favors P3 projects, which is the project delivery model approved by the Flood Diversion Board of Authority in September.
The P3 delivery will facilitate a shorter construction schedule for the Diversion Project, and at a lower cost than would be possible under standard delivery models.
"The new year-end funding bill takes a big step to help communities like Fargo-Moorhead and Minot advance vital flood protection projects by authorizing new starts and studies, as well as by increased funding for construction," said Hoeven. "We've secured relief for many of our residents through infrastructure investments, water retention and affordable flood insurance. The bill we're on track to pass this week continues that progress for major flood infrastructure for the Red River Valley and the Souris River region."
Hoeven and Senator Heidi Heitkamp, along with representatives from the Diversion Authority, have met frequently with top officials from the Corps in an effort to secure funding for the Diversion in the Corps' work plan. "Now that we've successfully fought to get new study and construction starts in the spending deal, it's critical to continue doing what I've been doing all along – pressing the Army Corps and other federal partners to prioritize flood projects in North Dakota, like the Fargo diversion," said Senator Heitkamp. "Permanent flood protection is vital for Fargo and all of North Dakota, so I'll keep engaging with local and federal leaders to build on the progress we were able to make in the spending deal."
"We are excited about the potential for construction funding for the Diversion Project which may be realized thanks to this bill," said Darrell Vanyo, Diversion Authority Chairman. "We look forward to continuing our productive work with the Corps to make permanent flood protection for the Fargo-Moorhead area a reality."
Hoeven says the bill would also increase the Corps' funding for FEMA flood-mapping activities to better coordinate with flood insurance and keep premiums more affordable.