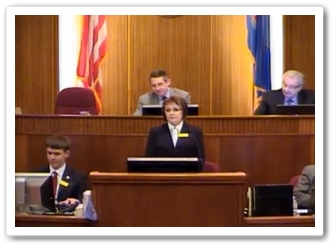 The North Dakota Senate passed a version of HB1020 today that restricts state funding for the FM Area Diversion Project. The restrictive language was introduced on the Senate floor via amendment, which was passed 24-23.
"The fight is not over. We continue to need flood protection for Fargo and Cass County," said Darrell Vanyo, Cass County Commissioner and Chair of the FM Diversion Authority. "We are disappointed that some do not understand the severity of our flood protection needs, and continue to suggest that the 4+ years of study by expert engineers is not sufficient."
"We have developed the best project to put an end to the problem," Vanyo continued. "It is a complex project that will provide protection for 200,000 people. This project has some negative impacts, which we are working hard to minimize. Any remaining impacts will be mitigated. We now look forward to the conference committee and to the governor to provide funding for the project. Without state funding, the project can still move forward, but it will be at a severely delayed pace. This delay will leave 200,000 people threatened by annual flooding and will ultimately increase the cost of protection."
"We would like to thank the senators who showed their support for flood protection for Fargo and Cass County today," Vanyo concluded.
It is expected that a conference committee will be named and take up the remaining differences related to the appropriations bill, which provides funding for the FM Diversion as well as statewide water projects through the State Water Commission.
Similar Posts: